Bedtime to breakfast and beyond
Published in Issue 1 Vol 7 Feb / Mar 2018
Feb 01 2018
20 min read
Feature
What started as a program to improve the sleep of people with dementia at one Life Care site has led to a fundamental shift in how the South Australian aged care provider implements and embeds person-centred care for all residents with dementia, not just at night but 24 hours a day. Deborah Muldoon explains
What started as a program to improve the sleep of people with dementia at one Life Care site has led to a fundamental shift in how the South Australian aged care provider implements and embeds person-centred care for all residents with dementia, not just at night but 24 hours a day. Deborah Muldoon explains
Good sleep is vital for well-being, and the need for restorative sleep does not lessen with age. Older people need about the same amount of sleep as younger adults (7.5 to 8 hours each night). However, our sleep patterns change as we age – older people take longer to fall asleep and are more easily awakened. Depending on the individual, they may need to remain in bed for longer to achieve the required amount of hours.
Sleep quality can be affected by many things: noise and light disturbances, napping during the day, inadequate pain management, and evening activity or diet (for example, a meal may cause reflux, indigestion, cramps or nausea, especially if eaten late in the evening). When a person is not getting enough sleep, their enjoyment of daytime activities can decrease.
Our review and trial
In 2012 Life Care developed and trialled the Bedtime to Breakfast program in response to an increase in overnight bell calls from unsettled residents with dementia at its Aldinga Beach Court care home. A review of bell call frequency identified an average of 240 calls overnight in the 24-bed unit. During the day these residents were also exhibiting fatigue, anger, intolerance, lack of appetite and poor participation in regular activities.Bedtime to Breakfast began with an investigation into the sleep habits of residents with dementia, led by a team of nine Life Care staff including management, nursing, care and lifestyle staff, and consultation with pharmacy suppliers. They assessed the major factors contributing to sleep disturbances in order to make recommendations and improve care for the residents. The program went beyond overnight care to also address residents' daytime activity to ensure a holistic approach to encouraging natural sleep.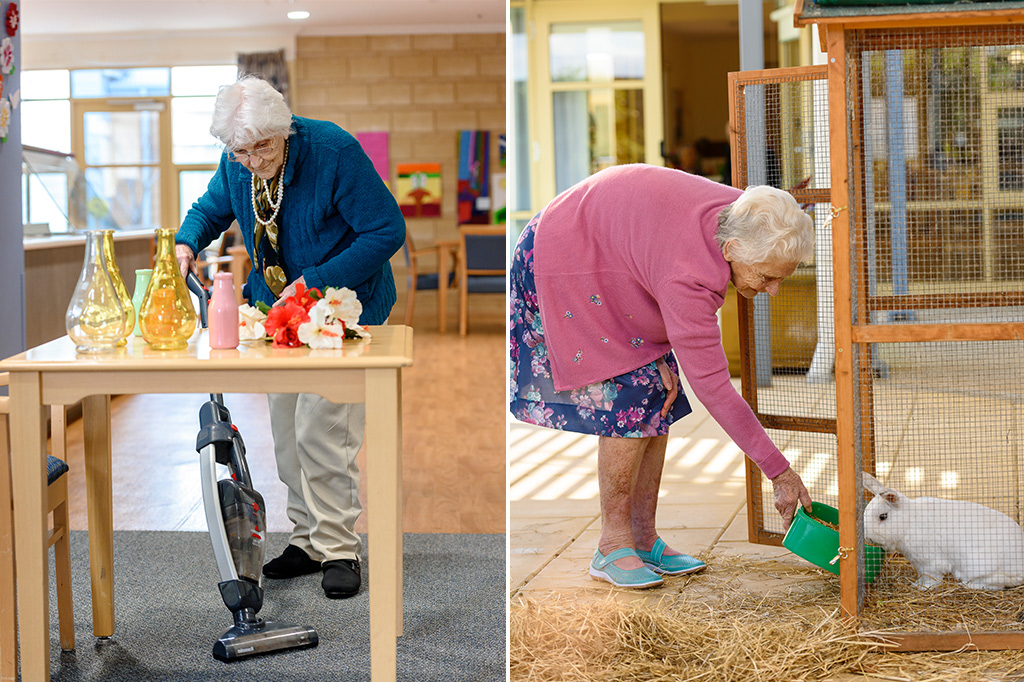 The 12-month trial at Aldinga Beach Court was successful in reducing overnight bell calls – from 240 calls in July 2012 to 98 calls in July 2013 – and improving residents' participation in daytime activities. Bedtime to Breakfast has since been rolled out across Life Care's five residential sites, for all residents, and our cottage-based respite service, with similar positive results (see graph).
The Bedtime to Breakfast program also became the catalyst for many major changes now in place across Life Care's five residential sites, including more staff training and support, new routines and activities for residents, increased volunteer engagement in supporting the program, major changes to the care home environment (see key changes box), and a Dementia Excellence training program for all staff and volunteers (see Dementia Excellence box).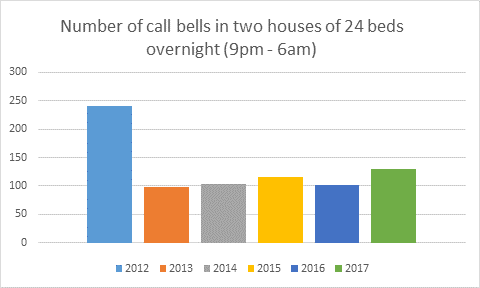 It has also strengthened the staff's understanding of the benefits of enhanced natural sleep – for residents and staff – and of the importance of focusing on the whole person rather than just task management.
In short, the program has led to fundamental changes in thinking and practice about how we implement and embed a truly person-centred focus for people with dementia, not just at night, but 24 hours a day.
Achieving natural sleep
During the trial our project team started by exploring the current practices for evening and night staff to identify which activities or environmental factors were interfering with the residents' levels of natural sleep.
After observation audits and staff surveys (on perceived causes of sleep disturbance and reasons for checking on residents), we identified seven major factors contributing to sleep disturbances:
call bells sounding
bright lights
noise made by staff and residents
the sound of lifts
noisy trolleys
toilet doors closing with a bang
loud automatic toilet air fresheners.
After reviewing the information collected from residents and staff and conducting a literature review of evidence-based research, we developed a four-point Enhancement of Natural Sleep policy and associated guidelines that are now used at all Life Care sites. The policy requires staff to:
identify the usual sleep patterns of each resident
consider the night-time environment
create environments for those who do not have 'usual' sleep patterns
ensure daytime environments that enhance natural sleep.
These documents have been added to Life Care's policy and procedure manuals, available on the organisation's intranet. Staff at each of the facilities also complete related education sessions.
Sleep routines
During the first 28 days of a resident's stay, Life Care staff speak with the person and family members to gather their life story, discuss usual day and night sleep habits and assess the person's sleep patterns to develop an individualised sleep plan.
As a result staff know and record each resident's sleep patterns, enabling them to go to bed, rise and eat breakfast at times of their choosing. The resident's day is organised around their waking hours, not the facility's routine. The focus is on the resident – not on making it convenient for staff to complete tasks. In turn, this has created a less clinical and more home-like environment in our care homes.
Take Verna's experience, for example. Before Bedtime to Breakfast was implemented, when staff went to wake Verna for her shower and breakfast each morning she was always very distressed and unsettled. Two staff members were needed to attend to her and she would become increasingly resistive and hit out. After reviewing Verna's social history we learnt that she was not a morning person. We also discovered she was pining for a child who died in infancy.
Now, the staff leave Verna to wake naturally. They keep the environment around her quiet and calm, don't turn on lights and keep the curtains closed until she wakes up. Verna is now able to settle, sleep and wake naturally. Only one staff member is needed to attend to her personal care and she engages positively. She also showers with a baby doll and has the doll in a basket beside her bed, which helps her settle if she wakes during the night.
The night-time environment
The environment in our care homes has been improved in a number of ways (see key changes box). Life Care residential sites now offer a considered night-time environment which includes a routine that suits each individual. Most adults have their own bedtime routine which has been part of their lives for years. It is important that staff understand this and continue the rituals that encourage natural sleep.
Wakeful residents
Strategies have also been introduced to minimise noise and disturbance from more wakeful residents. Life Care respects that some people come to us with a lifetime of 'non-typical' sleep behaviour. Some people may have a long history of being awake through the night either due to employment (shift work) or lifetime habits. We understand the importance of honouring their choices.
For these people we offer quiet, small lounge areas overnight where they can fall asleep if they choose. Here they are offered warm drinks such as herbal tea (minimal caffeine) and light snacks. They are able to listen to relaxation tapes including music, ocean sounds or white noise, and are offered opportunities for gentle massage or a warm shower.
Shadow boxes are used as room identifiers for all residents to minimise wakeful residents accessing others' rooms. Rummage boxes are provided for those requiring quiet activities.
The daytime environment
We found that the daytime environment plays a major role in positive sleep experiences when it provides opportunities to reduce boredom and encourage social activity. We have introduced opportunities for residents to remain engaged in meaningful activities throughout the day, for example by going for walks, taking part in an exercise program, and using rummage boxes. Short daytime napping in the early afternoon (if possible) and adequate winding down time in the evening are also necessary for good night-time sleep.
Outcomes
The focus of the initial project was in two houses at Aldinga Beach Court where the residents had advanced dementia and frailty. Obviously over the five-year period the residents have changed, however their level of frailty and dementia has not. The learnings from the initial project have been accepted by staff and are now a natural way of working throughout the day and night. This is highlighted by the sustained reduction in the activation of call bells overnight (see graph).
The Bedtime to Breakfast program resulted in residents with dementia being more engaged during the day and more settled throughout the day and night. These positive outcomes from the pilot led us to review how the environment and daily activities could be further enhanced to improve outcomes for people with and without dementia. For residents with dementia the research indicated smaller home-like houses were ideal. Several Life Care sites are now set up as individual houses with their own kitchenettes, dining and lounge areas to offer residents a more homely environment which supports relaxation and comfort.
This has required a change in staff structure, roles and accountability to enable care staff to focus on supporting residents to have meaning and purpose in their day and contribute to the house community as they choose, with clinical staff meeting key clinical needs.
Staff are now allocated to specific houses to promote consistency and ongoing engagement with the residents and their families. They are called 'assistants' rather than 'carers' – an attempt to move away from the image of carers administering care, rather than offering the resident choice and independence. In a home, cleaning, cooking, activities, getting up, washing, dressing and so on are part of a normal day. Now our assistants support residents in these activities as part of a normal day in the care home.
Volunteers are also recruited to specific houses where their skills can add the most value. They get to know residents and their individual needs and abilities, and can then add value for each person depending on what they want to do.
Support for night staff
As a spin-off project from Bedtime to Breakfast, Life Care also reviewed the impacts of shift work on staff and how the organisation can better support staff's emotional and physical well-being. Shift workers have poorer health outcomes than people who work regular hours and staff health is important – for the worker and those they are caring for. A guide, Getting The Best Out Of Shiftwork, was produced and is now included in all induction packs for new employees.
Life Care has also worked with Dementia Training Australia on some of the content for a new free e-learning course launching in February 2018 called Bedtime To Breakfast: Caring At Night for People With Dementia, designed to support night care staff (see box for details).
Conclusion
Bedtime to Breakfast was originally implemented as a continuous improvement program when we were looking to see how we could improve sleep for some residents with dementia at one of our sites. Initially, we focused on improving staff awareness about how they and the environment at night affect sleep for people with dementia. We soon realised, however, that we were taking on a much broader challenge involving a wider recognition of person-centred care, in particular how to support people to choose their own rhythm of life at night and not be dictated to by traditional care staff roles.
As Life Care's other sites then implemented the program, it became the catalyst for a fundamental change in thinking and practice around how we deliver truly person-centred care for people with dementia 24 hours a day.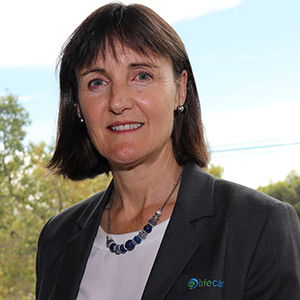 Deborah Muldoon
General Manager Innovation & Service Development at Life Care. Contact her at Deborah.Muldoon@lifecare.org.au
Creative Commons
This work is licensed under a Creative Commons Attribution-NonCommercial-NoDerivatives 4.0 International License (CC BY-NC-ND 4.0). It can be copied and shared in any medium or format, without any further permission from the copyright owner, provided it is for non-commercial use, is not modified and attribution is given.
Keywords
Subscribe for more
We offer some of our content online, but more articles, resources and news are available to subscribers only in our quarterly publication. Subscribe to receive the AJDC delivered to your inbox or your door.