Making air travel easier for people with dementia
Published in Issue 4 Vol 5 Aug / Sept 2016
Aug 04 2016
7 min read
Feature
Until now, there's been very little research on the issue of air travel for people with dementia. Maria O'Reilly and Nicole Shepherd are exploring the issue from the perspective of people with dementia, their carers, airport staff and flight crews, to develop guidelines and resources that will make air travel easier
Until now, there's been very little research on the issue of air travel for people with dementia. Maria O'Reilly and Nicole Shepherd are exploring the issue from the perspective of people with dementia, their carers, airport staff and flight crews, to develop guidelines and resources that will make air travel easier
Many people have more leisure time as they grow older and use this time to enjoy travel. The introduction of low-cost airlines has made air travel more accessible. The need to cater for people with dementia travelling by airplane is likely to be of increasing urgency with the projected rise in the number of people living with dementia in Australia approaching 900,000 by 2050.
Access policies
All airlines have disability access policies, but most do not explicitly cater for people with cognitive impairments such as dementia. EasyJet, a low-cost airline based in the UK, has partnered with the 'Dementia Friends' initiative of Public Health England and the Alzheimer's Society. They have adopted policies to ensure that people with dementia are able to access air travel. However, Australian-based airlines currently do not have specific guidelines regarding air travel for people with dementia or cognitive impairment.
Travel needs survey
Our team from the Dementia Collaborative Research Centre: Carers and Consumers (DCRC:CC) in Brisbane has been investigating the needs of people with dementia when they travel by air. The project started in 2015 when we surveyed and interviewed people with dementia and their travel companions about their experiences of air travel. We also surveyed flight crew and security staff about their experiences of travellers with dementia.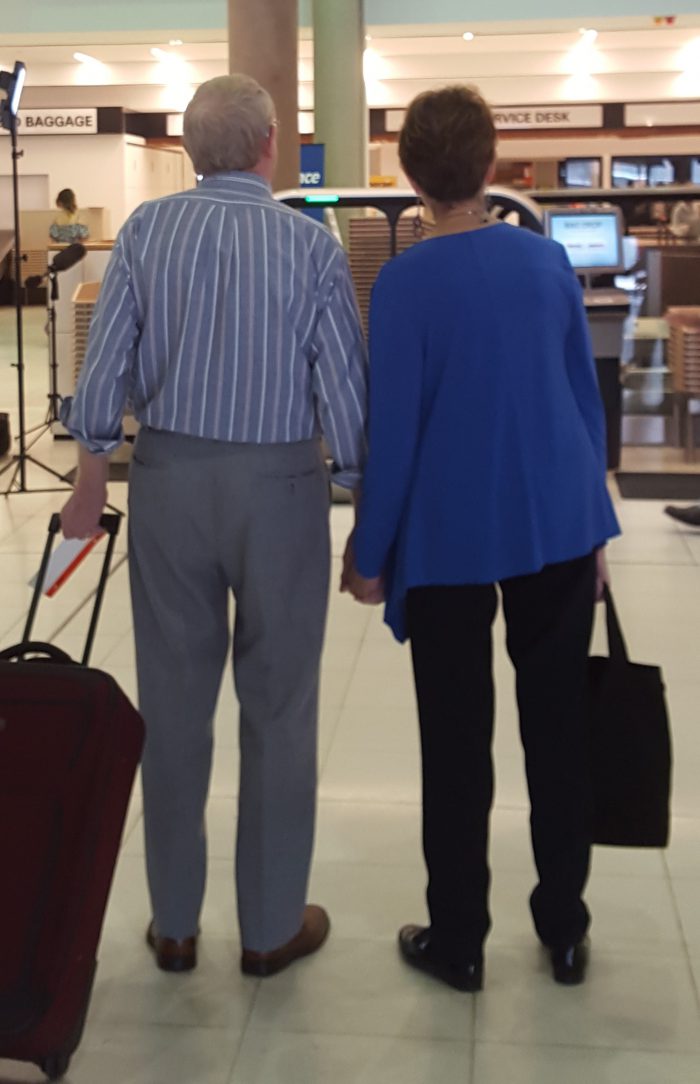 We found that people with dementia were flying on average twice per year, with the most common type of trip being international long-haul travel, mostly for leisure.
The airport presented difficulties for the person with dementia, such as finding restrooms and the correct boarding gate, hearing announcements, checking in, reading information on signboards and bag screening. Despite these difficulties, our respondents were planning to continue travelling by air. Many people assume that people with dementia would not travel without a person acting as a carer, but we found that some of the respondents with dementia did travel alone occasionally.
For the majority of travellers with dementia and their companions surveyed the most challenging part of the journey was at the airport, particularly the security checkpoints. Some travellers with dementia reported having difficulty following instructions and responding to questions. The survey revealed that security staff would sometimes separate people with dementia from their companion for extra screening, which added to their distress.
Most companions said that once they were on the plane they were able to relax.
They reported that flight crew had been very polite and able to accommodate their needs.
Difficulties could be experienced accessing toilets as they were too small to accommodate two people. In a small number of cases the companions reported that the person with dementia they travelled with became agitated on the flight.
Planning ahead
Even with a diagnosis of dementia the experience of air travel and overseas holidays can still be a good one. The key is planning ahead. One companion had this to say about a trip she took with her husband:
"… I could honestly say with my husband, except for a few things that we laughed about later that were quite stressful, in many ways he loved his travel…and when he got back he wouldn't remember everything about the trip but he remembered some things…you have to be aware…and try and think ahead and plan, but it was a really good experience in lots of ways".
Airport assessment and guide
As part of this research project we have been working with Brisbane Airport Corporation to assess the Brisbane Airport domestic and international terminals using the Dementia Friendly Communities – Environmental Assessment Tool (Fleming & Bennett 2015). Once complete, the information from this assessment will be discussed with airport management to identify what, if any, changes could be made to the built environment. For example, there may be a need for more unisex disabled toilets, or more seating in particular areas of the airport.
On 1 July this year we started the next phase of our research program – developing a guide to the Brisbane Airport for travellers with dementia. This will contain photos and diagrams explaining what to expect as people move through the different areas of the airport. It will be available online through the Brisbane Airport Corporation website by the end of this year.
Training for ground staff
When we surveyed airport security staff they indicated they would benefit from having a greater knowledge of dementia and how they could assist travellers with the condition. As a result we will also be developing training materials for ground staff at Brisbane's domestic and international terminals about the needs of people with dementia at the airport. These materials will be available mid-way through 2017.
Improving accessibility
Our initial survey identified that navigating through airports was a common difficulty. By the end of this project we will have produced a range of material designed to improve the accessibility of air travel for people with dementia:
The airport guide will assist travellers to be prepared for their journey.
The assessment of the built environment will identify any changes than can be made to the design of the terminals to improve the experience for people with dementia.
Training materials developed for staff will improve their skills in assisting travellers with dementia should they become distressed or disoriented.
While this material will be developed for the Brisbane Airport, we hope it may be adapted for use in other airports. Our aim is to improve social inclusion for people with dementia and ensure they can continue to enjoy travel.
Air travel tips for people with dementia
The following tips were provided by people with dementia and their travelling companions during a 2015 survey by Maria O'Reilly and Nicole Shepherd:
Talk to the airline about the support they can offer people who need assistance. Some airlines will escort you through the security and immigration checkpoints and to your boarding gate. Find an airline you like and stick with them. Familiarity with the airline may help reduce anxiety.
Book a flight that leaves at a quiet time of day. For example, some airports are very busy between 6am and 10am and 4pm to 7pm. It will be a lot easier for you to find your way and access assistance if you are travelling outside the busy periods.
Plan to arrive at the airport 90 minutes early to allow for unforeseen delays. Go through the security checkpoints straight away and then find somewhere to relax.
You can often find information about the seating configuration of the airplane online. Find the best seats for you, for example many people choose aisle seats close to the toilets.
Find out about the airport before your departure day. You can visit the airport beforehand to get your bearings, and look for information on the airport website. For example, there may be special parking zones for people with a disability that you can use.
Don't be afraid to ask for help from airline and airport staff and explain your medical condition.
Keep hand luggage to a minimum.
A lanyard with a pocket on it, worn around your neck, can be a handy place to tuck away your travel documents, making them easy to access when you already have your hands full.
Long-haul travel can be the most difficult, particularly during the stopover. Schedule flights which enable you to rest and give you plenty of time to meet your connecting flight. If possible, travel with two carers.
Some people with dementia get agitated at particular times on the flight, such as when everyone is boarding, during the take-off or landing. Distraction techniques, such as using noise-cancelling headphones to listen to music, or eating a favourite snack, can reduce anxiety.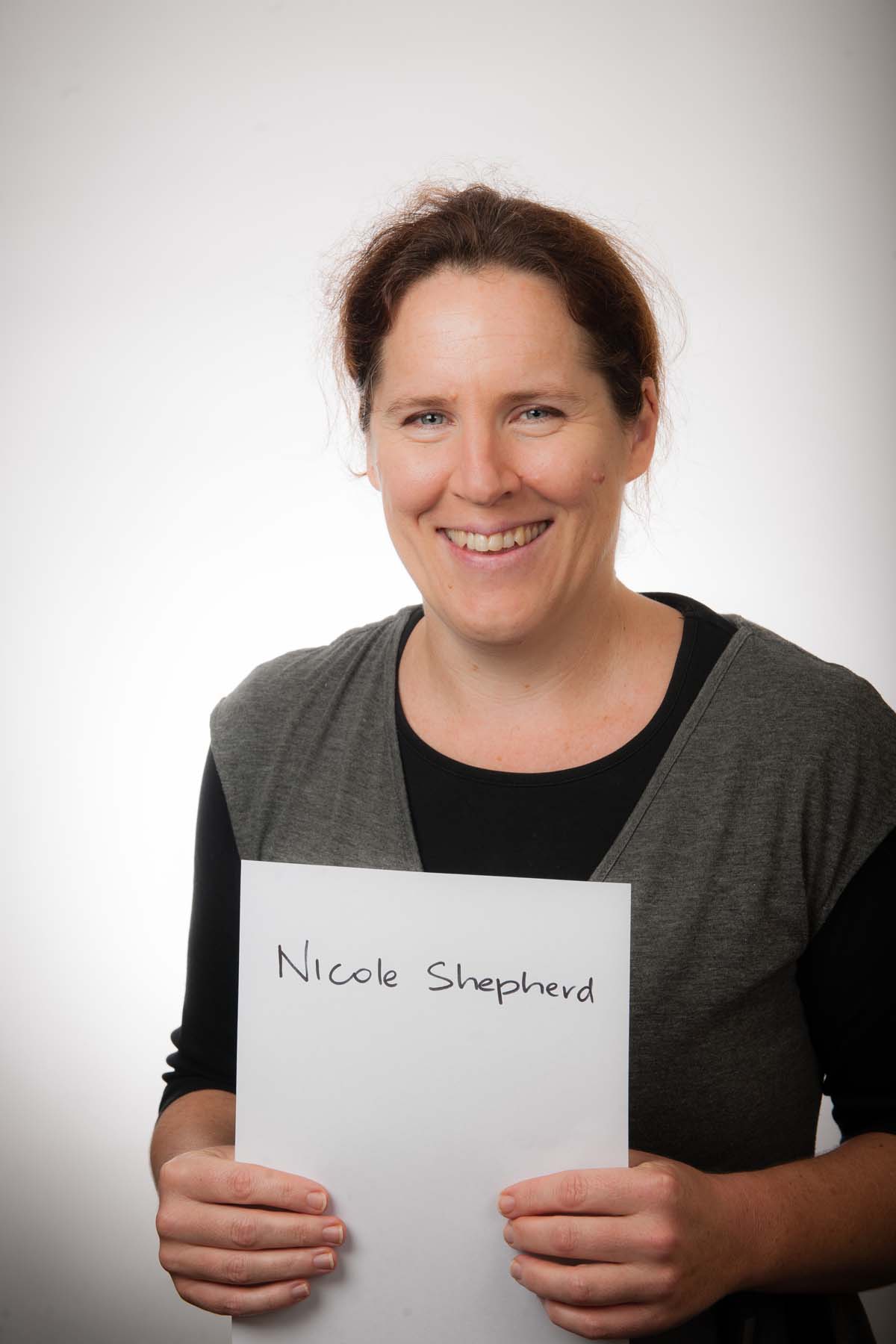 Nicole Shepherd
Senior Project Officer with the DCRC:CC.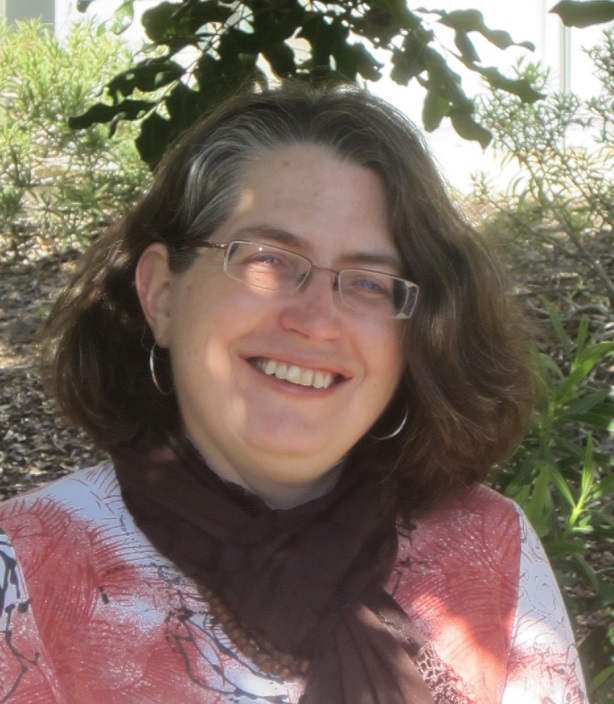 Dr Maria O'Reilly
At the time of writing, Dr Maria O'Reilly was a Research Fellow in the School of Nursing, QUT, Brisbane and a researcher with the DCRC:CC. She is now Senior Lecturer in Occupational Therapy at Central Queensland University, Bundaberg; To follow up on this article, contact Maria at: m.oreilly@cqu.edu.au
Acknowledgments
We would like to acknowledge the Brisbane Airport Corporation for its assistance with the project. We also acknowledge the invaluable advice received from Christine and Paul Bryden, Perry and Leigh McNeil, John Quinn and Glenys Petrie. We represent a large collaborative team of investigators and would also like to acknowledge the invaluable multidisciplinary contributions of Professors Jill Franz, Helen Edwards, Elizabeth Beattie, Lindy Willmott and Richard Fleming, Dr Elaine Fielding and Associate Professor Alexander Dreiling. This research has been funded through the Dementia Collaborative Research Centre: Carers and Consumers (DCRC:CC), Queensland University of Technology (QUT), Brisbane.
Creative Commons
This work is licensed under a Creative Commons Attribution-NonCommercial-NoDerivatives 4.0 International License (CC BY-NC-ND 4.0). It can be copied and shared in any medium or format, without any further permission from the copyright owner, provided it is for non-commercial use, is not modified and attribution is given.
Subscribe for more
We offer some of our content online, but more articles, resources and news are available to subscribers only in our quarterly publication. Subscribe to receive the AJDC delivered to your inbox or your door.