The DementiaKT Hub: translating research into practice
Published in Issue 5 Vol 5 Oct / Nov 2016
Oct 01 2016
6 min read
Feature Articles
Please note the DementiaKT Hub is no longer available.
Belinda Goodenough and Tracy Higgins introduce The DementiaKT Hub – a new one-stop online destination for the latest research-based dementia resources involving DCRC expertise
Please note the DementiaKT Hub is no longer available.
Belinda Goodenough and Tracy Higgins introduce The DementiaKT Hub – a new one-stop online destination for the latest research-based dementia resources involving DCRC expertise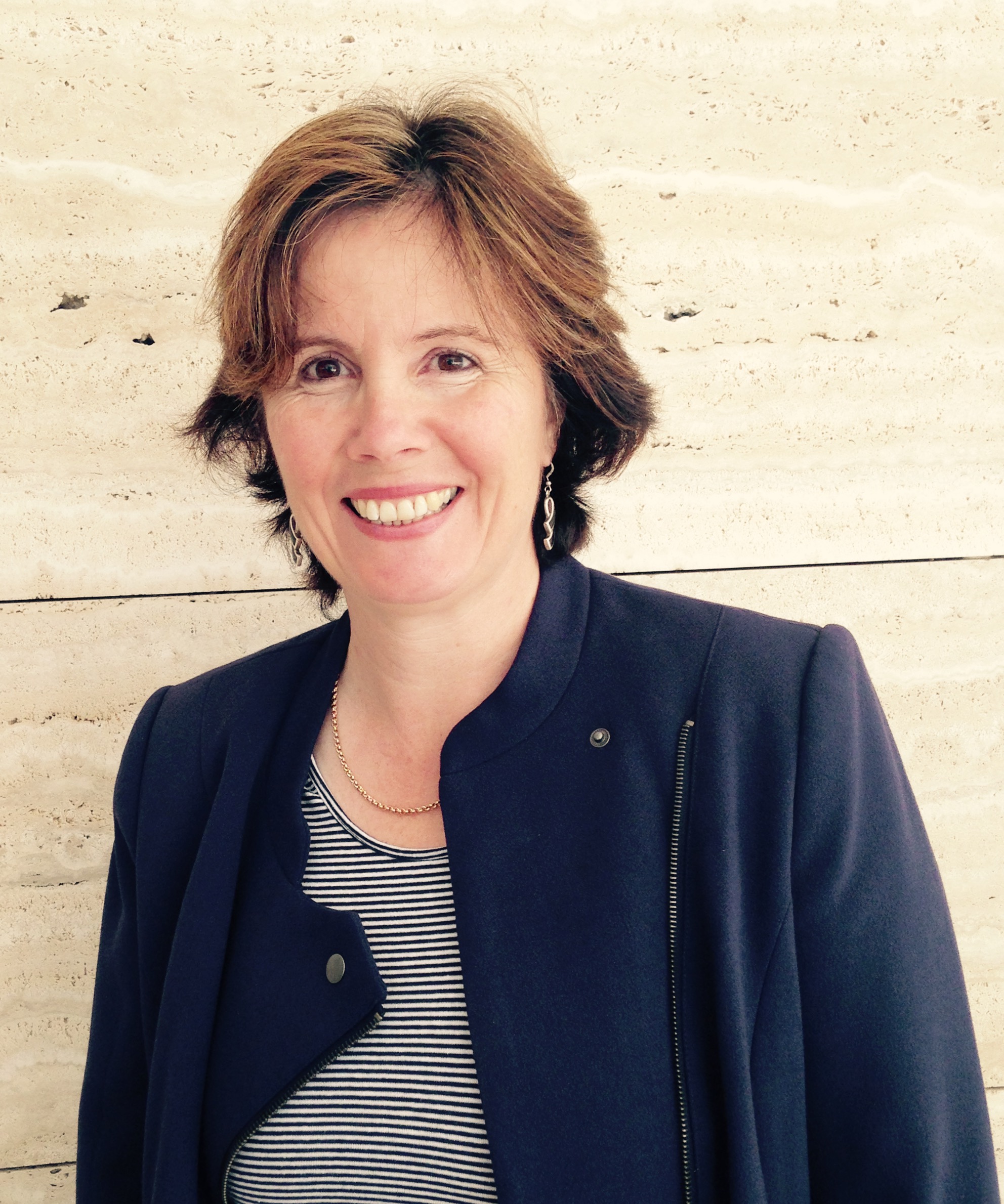 Associate Professor Belinda Goodenough
Senior Visiting Fellow to UNSW Australia (DCRC: ABC) and KT Program Manager for Dementia Training Australia. Kt Program Manager for the DCRCs and the NSW/ACT DTSC
Seventeen years. This is the time lag calculated by a UK-based team as the average wait for a research discovery to impact upon health-related care and treatments (Morris et al 2011).
The reasons for this time delay for knowledge translation can be complex. Some relate to the ways and speeds at which organisations work. So an important topic of study in the field of knowledge translation (KT) is how to help dementia care teams implement, manage and sustain change.
Other key factors in dementia research KT seem simpler: awareness and access. Knowledge can only start the journey to being both used and useful if it first can be found. Yet it can be challenging to know where to find dementia-related resources that are backed up by the latest science. For example, results of a recent survey in a project led by a Dementia Collaborative Research Centre: Carers and Consumers (DCRC-CC) team showed that the Australian residential aged care workforce reported difficulties accessing the latest research-based knowledge.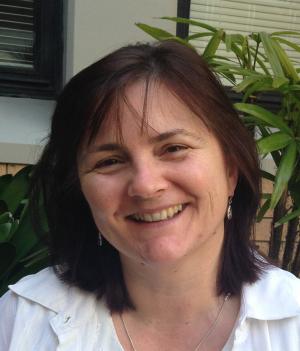 Tracy Higgins
Provides support to the DCRCs' KT Program.
Australia's Dementia Collaborative Research Centres (DCRCs) were established with a vision for promoting the rapid uptake of their research findings into practice and policy. This KT mission includes developing contemporary and easy ways to help people find and use the outputs of DCRC research. This year, the DCRCs are pleased to launch an extension of their web-based resources: a microsite called The DementiaKT Hub.
Who is The DementiaKT Hub for?
The DementiaKT Hub is a freely accessible internet-based site for everyone who has an interest in dementia, including health professionals, carers, policy makers, researchers, people living with dementia, and the general public. It is styled as a one-stop destination for finding a range of resources that are informed by DCRC-related research, consultancy, and partner-based activities.
The hub acts as a gateway to access resources under eight content categories in dementia, including: dementia prevention; living with dementia; education for health professionals; and collections of tools. Each resource entry gives key information on how to get the resource, why it is useful, and where to find more information about it. An example is the Focus On The Person tool for home carers.
The DementiaKT Hub is also the new home for the Dementia Outcomes Measurement Suite (DOMS) – an Australian Government-funded initiative to help Australian health professionals understand and use the same tools to measure dementia-related domains.
Why is The DementiaKT Hub needed?
Dementia-related knowledge translation must be a high priority if the value of Australia's research investment is to be fully realised. The DCRCs are now part of the new NHMRC National Institute for Dementia Research (NNIDR). The DementiaKT Hub will complement the NNIDR's strategic directions for translational outcomes (eg at a policy level) by providing a gateway to access 'grassroots' resources relevant to care, practice and consumer issues.
The DementiaKT Hub project leader is Associate Professor Belinda Goodenough, who also manages the KT Program for Dementia Training Australia (from October 2016) and was the NSW /ACT Dementia Training Study Centres' KT Program manager at the time of writing.
Belinda began with the premise that some of the best KT in dementia starts with the punchline, not the problem. Part of the traditional view of how research should translate into practice has been overly dependent on research experts trying to convince practitioners that a problem exists, and giving them the solution. Yet people appreciate being shown a resource and then taking a more hands-on exploratory approach to discover for themselves how it fits with their needs and context.
The traditional 'problem to solution' pipeline approach also risks creating knowledge silos – such as websites that cater only for a specific dementia stakeholder, or suggesting that certain resources are only useful for one type of health professional.
Overall, we have learnt a few things from websites like TripAdvisor: people like to browse, and they follow glimpses of the destination. A great way to build awareness is to support people to get curious about places or products they never knew existed and take the time to figure out for themselves if it seems relevant or interesting.
For example, a person who is potentially naive about dementia may be looking for information on how better to cope as a carer at home, and could also browse resources aimed at dementia prevention, or upskilling the professional workforce. Sometimes we know that our dementia care workforce, including GPs, become aware of dementia-related resources because consumers have found them first. In this way, The DementiaKT Hub helps a wide and diverse community to 'know what you don't know' and get glimpses of resources that traditionally might have only been targeted to one group.
What's on the horizon?
TheDementiaKT Hub will also support the DCRCs' commitment to build capacity in KT in dementia. This means improving the skills of researchers, service providers, health professionals and policymakers in how to design and implement KT projects.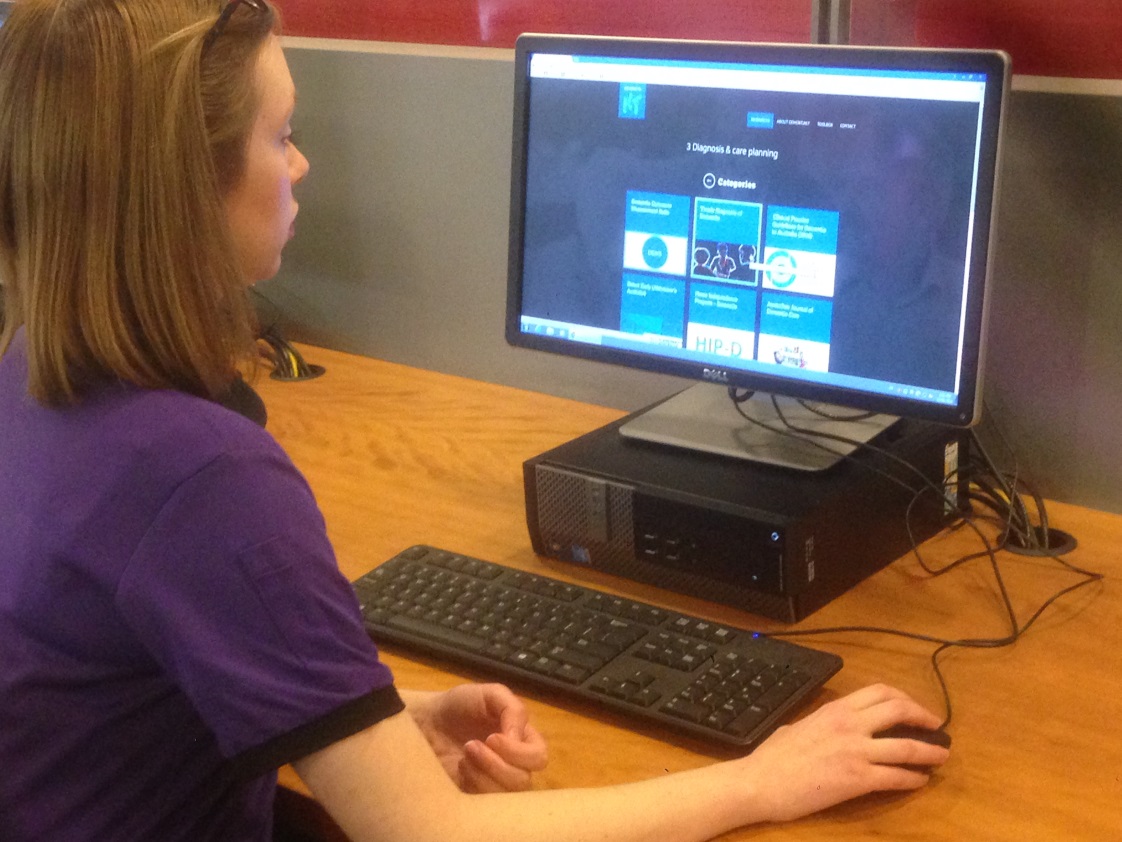 There is a toolbox area being developed which will give access to a range of resources useful for dementia-related KT research and evaluation. In particular, there will be a more interactive version of the 'Innovation to Implementation' materials used in the Knowledge Translation Workshops for the dementia workforce presented by Belinda Goodenough over the past three years.
TheDementiaKT toolbox is being developed in partnership with a team of computer scientists from Western Sydney University, and scheduled for completion in December 2016.
It is hoped that the DementiaKT Hub will help to accelerate the knowledge journey for translating research into practice, and to reduce that time lag from 17 years.
Acknowledgments
The DementiaKT Hub is funded by the DCRC Knowledge Translation program, and, at the time of writing, major partner NSW/ACT DTSC. It is a collaborative team effort owing much to the following people: Associate Professor Belinda Goodenough, Ian McDonald, Tracy Higgins, Dr Liesbeth Aerts, Adam Bentvelzen, Dr Katrin Seeher, Dr Malini Devadas, Heather Hubble, and the talent of Plural Agency.
References
Morris ZS, Wooding S, Grant J (2011) The answer is 17 years, what is the question: understanding time lags in translational research. Journal of the Royal Society of Medicine 104(12) 510-20.
Creative Commons
This work is licensed under a Creative Commons Attribution-NonCommercial-NoDerivatives 4.0 International License (CC BY-NC-ND 4.0). It can be copied and shared in any medium or format, without any further permission from the copyright owner, provided it is for non-commercial use, is not modified and attribution is given.
Subscribe for more
We offer some of our content online, but more articles, resources and news are available to subscribers only in our quarterly publication. Subscribe to receive the AJDC delivered to your inbox or your door.