The joy and freedom of dance
Published in Issue 3 Vol 6 Jun / Jul 2017
Jun 04 2017
23 min read
Feature Articles
Gwen Korebrits, Amy Gajjar and Sarah Palmer introduce Dancewise, a movement program suitable for people at all stages of dementia who are living in care homes.
Gwen Korebrits, Amy Gajjar and Sarah Palmer introduce Dancewise, a movement program suitable for people at all stages of dementia who are living in care homes.
The Dance Health Alliance is a non-for-profit organisation which delivers a movement program in Australia developed specifically for people with a wide range of physical and cognitive challenges, including dementia, multiple sclerosis and Parkinson's disease. Our mission is to provide people with the opportunity to regain freedom through movement.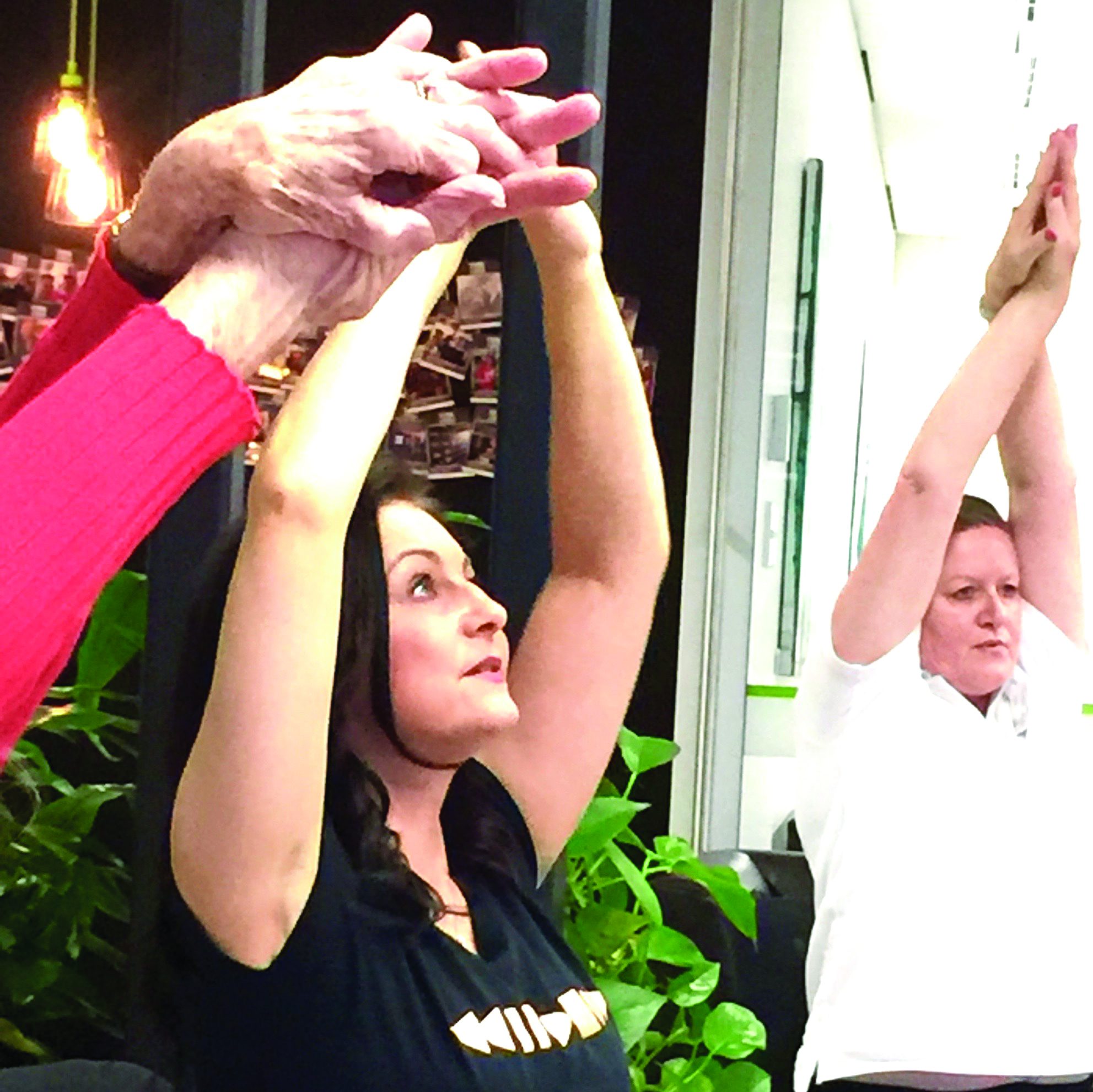 The program, called Dancewise, is distinctive in that dance teachers go into residential care homes to run the classes, with the help of care staff, as well as offering them training in facilitating the dance sessions.
Dancewise is a form of aerobic exercise quite different from other forms of exercise. The classes, run by experienced dance professionals, offer a dance routine which addresses many aspects of exercise including strength, spatial awareness, agility, endurance, flexibility, balance and coordination (hence improved 'balance confidence' and reduced risk of falls), with carefully selected background music (from an era appropriate to the individual participants) and breathing exercises. Each class can be geared to the ability of the participating dancers. All the movements start off slow and small. They can be done whilst seated and/or standing, making the program suitable for all levels of mobility and people at all stages of dementia. No dance experience is necessary. The aim is to get people moving and stimulate them physically.
We believe that everyone is a dancer; there is no right or wrong way to do the movements, only freedom to explore who you are and how it feels to move. The combination of music, flow and fluidity within the program helps people to lose themselves in the moment. This is the beginning of their journey to regain their freedom in the way they move. Some people dance to forget, some dance to remember but everyone dances to quench their desire to move and to feel empowered and liberated in their own body, regardless of ability.
About the program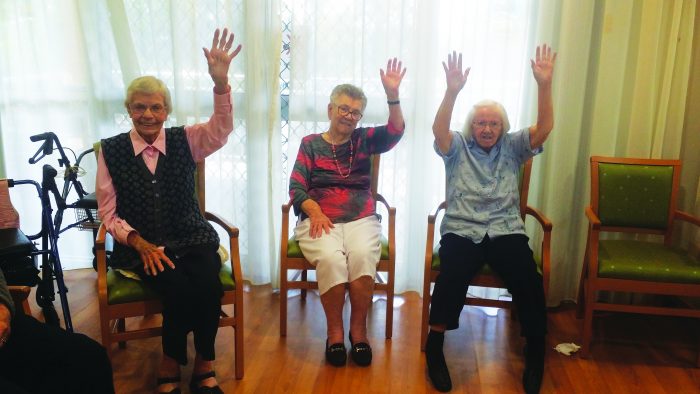 Gwen's cousin, Andrew Greenwood, a well-known ballet master in Europe, with a background in injury prevention and rehabilitation for dancers, created the program in the Netherlands in 2012, originally to help enhance the physical and mental well-being of a colleague diagnosed with Parkinson's disease. Andrew invited Gwen, also a dance teacher, performer and choreographer, to work on the program with him in Europe, and in 2015, they cofounded the Dance Health Alliance to introduce the program in Australia.
From a medical perspective, Dancewise meets the needs of people with dementia on physical, cognitive, emotional and social levels. The participants, referred to as 'dancers', are invited to explore a series of movement sequences which challenge their cardiovascular health, muscular strength and endurance, flexibility and range of motion, balance, coordination and rhythm, whilst simultaneously creating an engaging environment, conducive to fostering social interactions and building relationships.
The music adds an additional component to the program. Different music playlists are used for each class and are specifically designed to meet the needs of every dancer, based on the musical memories and preferences of participants. In particular, when working with people with dementia, signature pieces of music such as Moon River, Que Sera, Sera and the Elvis Presley classic All Shook Up are incorporated into the playlist to help unlock memories.
Dancers often sing along to their favourite tune and remain quite unaware of the physical and cognitive exercises they are participating in or the health benefits they are gaining. The Dancewise program is holistic in that it includes movement sequences that not only focus on large muscle groups such as those in the arms and legs, but also the smaller, more intricate muscle groups such as those in the hands and fingers, all of which are important in maintaining independence and quality of life. Some of the movements (slow and deliberate) have been developed from taichi. Others are softer or faster. Some incorporate elements of sign language and ballet.
Every movement is specifically incorporated into the program to stimulate and/or challenge the dancer physically, cognitively or socially. For example, the classes incorporate exercise which challenges coordination and cognitive function through the use of music with a strong rhythm component (eg African drumming). These exercises are repeated and built upon several times throughout the class to stimulate neuroplasticity.
The teachers use a repertoire of set moves called 'anchor moves', but also have the freedom to develop and incorporate their own moves into each class. This allows for flexibility to meet the needs of the dancers. For example, if the group has been on an outing earlier in the day they may be tired, which calls for less energetic movements for that day's class.
The program also emphasises breathing exercises, not only for the meditative benefits but also to improve oxygen perfusion throughout the body, lung function and strengthen the muscles involved in respiration. Even those with very limited movement can benefit physically from the classes because we know that a person's heartbeat speeds up and slows down in time to the rhythm of music.
The classes take place in a circle, with the dancers positioned facing inwards towards each other. We find that this creates an inclusive environment for people to connect and enables them to interact throughout the class when clapping, smiling, laughing and holding hands, for example.
The benefits of exercise
Exercise has been shown to be of benefit to people with dementia. A thorough meta-analysis of 1603 studies of exercise and dementia (Ahlskog et al 2011) showed that participants with dementia had better cognitive scores after six to 12 months of exercise compared with sedentary control groups. There were also significant improvements with respect to the prevention of dementia in participants without dementia. Many studies showed that the hippocampus and grey matter volumes increased with corresponding clinical observations including improved memory and cognition. Magnetic resonance imaging (MRI) also demonstrated improved neural connectivity.
Another breakthrough study conducted in the UK (Elwood 2013) followed 2235 men in Wales, aged 49-59 and observed the impact of five factors on their health over a 30-year period – exercise, healthy diet, normal weight, low alcohol intake and non-smoking. This study showed that exercise was the most powerful contributor, with a 60% reduction in cognitive decline and dementia risk. As Dr Norman Doidge reflects, regarding exercise: "If any drug could do that, it would the most popular, talked about treatment in medicine" (Doidge 2015 p96).
One of the most significant mediators of neuroplasticity is brain-derived neurotrophic factor (BDNF) (Flöel et al 2010). Many studies have suggested the role of BDNF in neurogenesis and synaptic connections (Huang & Reichardt 2001; Lessmann & Brigadski 2009; Edelmann et al 2014). BDNF is known to be increased with factors that include physical activity and social interaction (Mattson 2008).
Animal studies suggest that coordination and not endurance training induces synaptogenesis (nerve connections) and glial changes (Black et al 1990) – hence the relevance of the type of activity. Dance involves more coordination than other physical activities.
The benefits of dance
Dance is a form of aerobic exercise different to other forms of exercise because it combines physical activity with sensory stimulation (sensorimotor) and also has cognitive, social and affective components. Despite animal studies having shown that this combination has the strongest effect on neurogenesis, human studies to date are relatively scarce.
Verghese et al (2003) compared six cognitive activities (eg crossword puzzles, reading, playing a musical instrument) and 11 physical activities (eg dancing, walking, swimming) in a 21-year prospective study in elderly participants. Although cognitive activity reduced the risk of dementia, physical activity generally did not. The only exception however was dance, which lowered the dementia risk by a staggering
76%. Risk reduction was also generally related to the frequency of the activity.
Muller et al (2017) studied two groups of healthy seniors over an 18-month period – one on a standard fitness program involving repetitive movements and the other in a dance program that involved constantly changing, new movements. MRI, BDNF and neuropsychological tests were performed at baseline, six and 18 months. Dancers had higher levels of BDNF compared to the standard group.
After six months, the dancers showed a significant increase in the grey matter volume (left pre-central gyrus which controls voluntary motor function) and at
18 months, an increase in the para hippocampal gyrus volume. Attention and verbal memory in both groups improved at six and 18 months. The increase in pre-central gyrus volume may have been due to different movements (polycentric) with varying music (polyrhythmic).
The authors concluded that participation in a long-term dance program is superior in inducing neuroplasticity and that "dance is highly promising in its potential to counteract age-related grey matter decline". They also commented that this is related to the multimodal nature of dance – combining the physical, cognitive and coordinative challenges.
Porat et al (2016) studied the effect of dance, music and song in groups with no and mild cognitive impairment. Participants were given a detailed questionnaire relating to their lifetime experience in music and dance. They had MRI scans and neuropsychological assessments. The results concluded that those who had been dancers performed better in cognitive tasks that involved memory and learning, suggesting that music, song and dance could potentially avert or delay mild cognitive impairment.
Lifestyle factors that help in preventing dementia were studied by Muller et al (2017) who yet again reported that a promising approach lies within dance programs because this incorporates both cognitive and physical activity to improve neuroprotection.
Guzman et al (2017) evaluated a 12-week dance program for people with mild to moderate dementia in three care homes. Collaborating data from 10 residents, 35 carers and three family members, they found there was a significant improvement in mood and socialisation. The residents wanted to continue with the program and the authors recommended that their dance program be disseminated further in care homes.
The power of music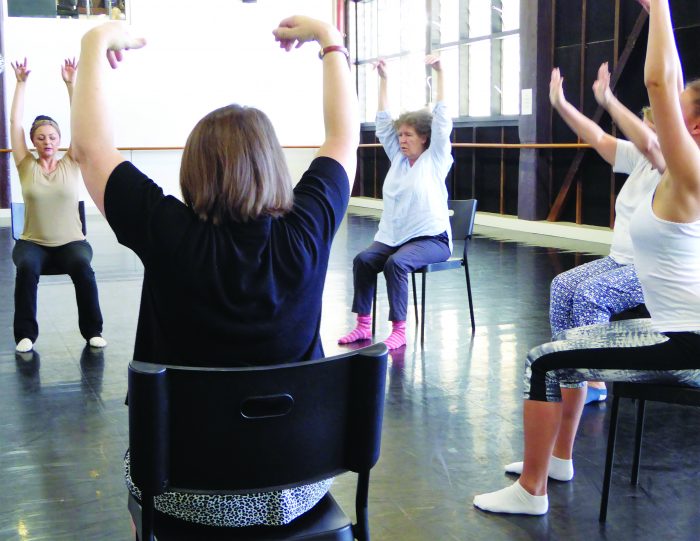 Music is known to activate specific brain pathways related to emotion – including the hippocampus, amygdala, prefrontal cortex, insular and cingulate cortex and hypothalamus. There are thought to be several mechanisms as to how music influences the brain. Gómez et al (2016) state that there are four main theories: neuroplasticity; neurogenesis, regeneration and repair; neuroendocrine; and neuropsychiatric. The biochemical changes involved include the release of several neurotransmitters, neuropeptides and other biochemical mediators such as endorphins, endocannabinoids, dopamine and nitric oxide (Boso et al 2006).
A recent systematic review (Abraha et al 2017) looked at different non-pharmacological interventions for behavioural and psychological symptoms in dementia and found that music and behavioural management were effective in reducing these dementia symptoms.
Fang et al (2017) reviewed literature on the use of music therapy (MT) in dementia. There have been several previous studies confirming this. They looked at music therapy, singing, background music and combining it with a physical activity which all had positive effects. The authors reported that music therapy should be ideally started early in dementia onset and to consider combining it with other physical modalities – such as dance. This combined therapy of music and dance was also suggested by Gómez et al (2016) following from their six-week study of music therapy for people with Alzheimer's disease, where significant improvements were recorded in memory orientation and mood (anxiety and depression).
Another study of residents with mild to moderate cognitive impairment at care homes used an intervention that combined dance (as a form of participation-based physical exercise) and relaxation. They found participants had reduced levels of anxiety and depression, improved cognitive function and improved quality of life (QOL).
Dance as a form of participation-based physical exercise was found to reduce anxiety and depression levels and improve QOL and cognitive function among the studied sample of cognitively impaired elderly subjects in Malaysia (Adam et al 2016).
Conclusion
There has been substantial research into the effects of dance therapy and music in people with and without dementia. The benefits of dance include improved cognition (through increasing neurogenesis and neural pathways via many mediators including BDNF), memory, mood, stress relief, self-confidence and social and psychological well-being. Dance integrates several brain functions simultaneously including kinaesthetic, musical and emotional, which enhances neuronal connectivity.
For these reasons, Dancewise classes are of particular benefit for people with dementia. The combined power of dance and music provides a proven, positive and cost-effective intervention for people in care homes and the community.
Acknowledgments
Thanks to Dr Robyn Cosford for her support towards writing this article.
Creative Commons
This work is licensed under a Creative Commons Attribution-NonCommercial-NoDerivatives 4.0 International License (CC BY-NC-ND 4.0). It can be copied and shared in any medium or format, without any further permission from the copyright owner, provided it is for non-commercial use, is not modified and attribution is given.
Keywords
Subscribe for more
We offer some of our content online, but more articles, resources and news are available to subscribers only in our quarterly publication. Subscribe to receive the AJDC delivered to your inbox or your door.