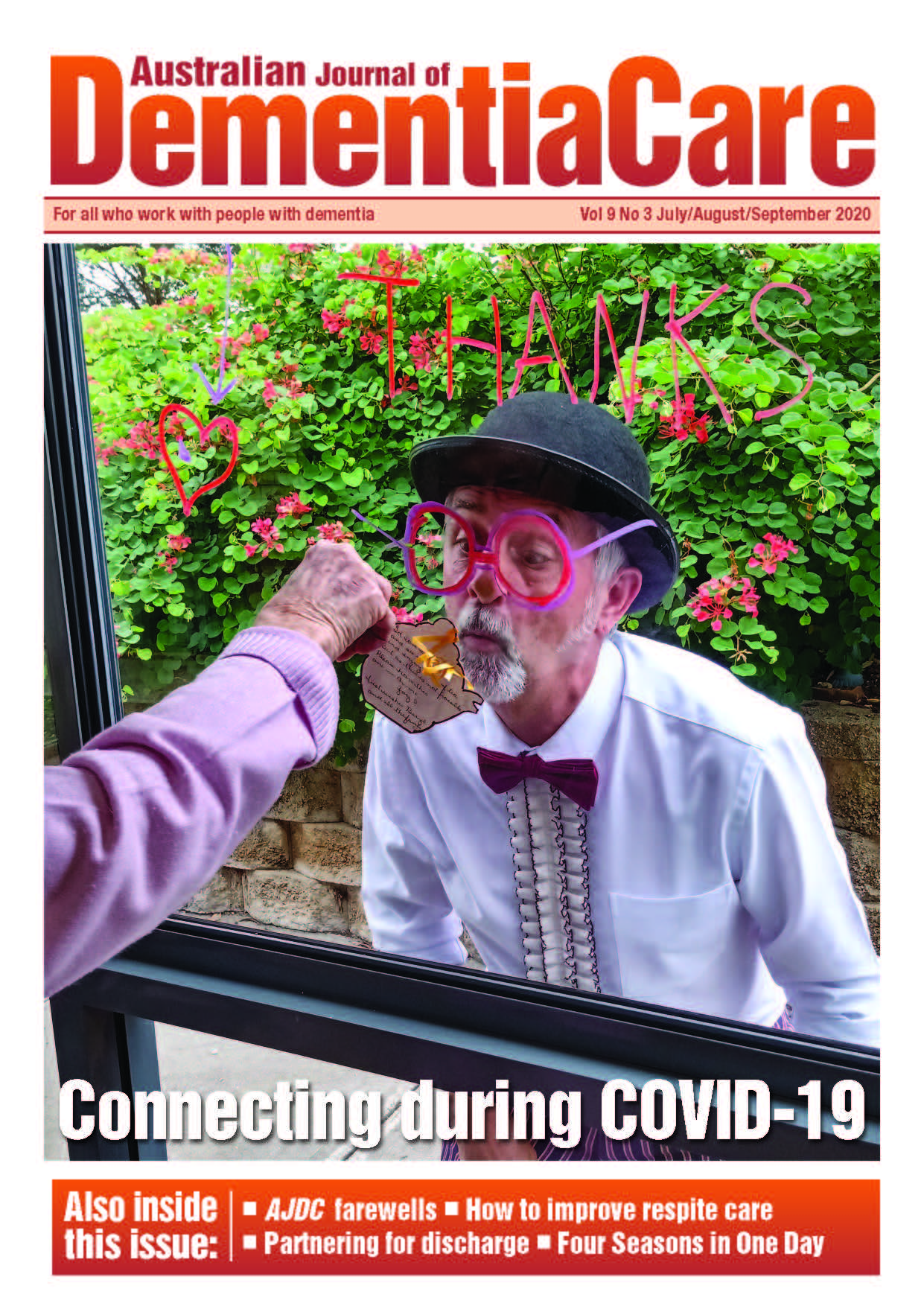 Vol 9
Issue 3
2020
Jul / Aug / Sep
Issue 3
Jul / Aug / Sep
2020
Connecting during COVID-19
Connecting during COVID-19
Inside this issue
Subscriber only content
Project updates and viewpoints
The art of connecting at home
The article focuses on Artful, an online creative learning resource aimed at people living with dementia and their support networks, including aged and health care staff, from Sydney, Australia's Museum of Contemporary Art. Topics discussed include structure of the onsite Artful program, resulting key learnings from the program, and benefits of the program to combating social isolation and the lack of stimulating activities.
Personalising reminiscence, music
Moove & Groove LISTEN is a new program of curated and personalised audio-visual content designed to engage people with dementia through music and reminiscence. It also includes a Virtual Visitor Program, enabling users to connect with family and friends via video calls. Alison Harrington explains
Four Seasons in One Dementia Day
Julie Priest and Lisa Hort report on an ambitious 12-month community initiative in Port Macquarie, NSW, which celebrated the collective accomplishments of people living with dementia and engaged those who may not normally participate in community-focused activities
Research Focus
Partnering for discharge
The article summarizes research and key findings from The Dementia Discharge Pathway study aimed at improving hospital discharge processes for older people living with dementia. Topics discussed include key outcome of discharge planning, barriers and enablers that can influence the discharge process, and elements to support family inclusion in discharge planning included in the Partnering for Discharge communication package.
Plus the latest dementia research news, resources and events.
Subscribe for more
We offer some of our content online, but more articles, resources and news are available to subscribers only in our quarterly publication. Subscribe to receive the AJDC delivered to your inbox or your door.