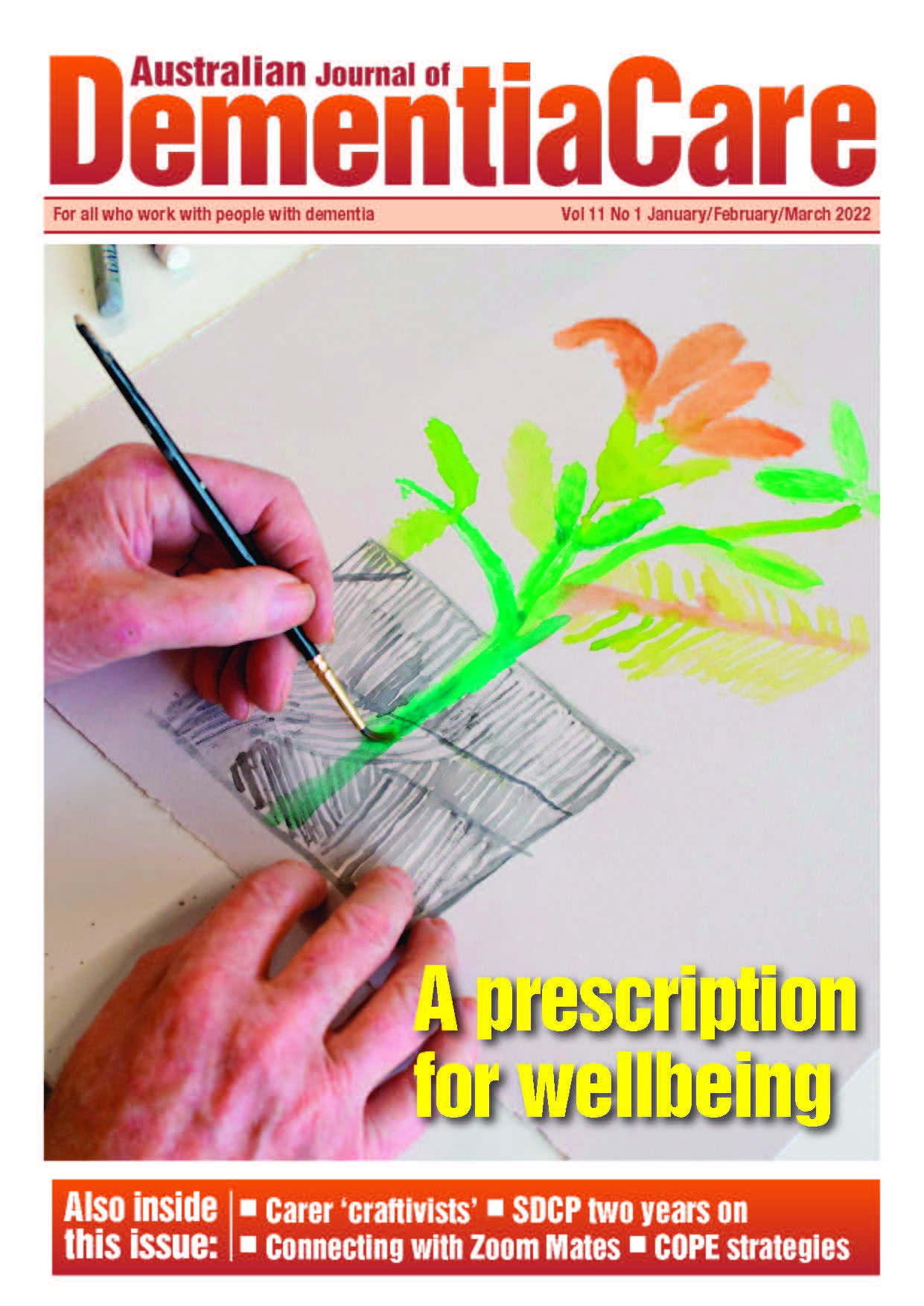 Vol 11
Issue 1
2022
Jan / Feb / Mar
Issue 1
Jan / Feb / Mar
2022
A prescription for wellbeing
A prescription for wellbeing
Inside this issue
Subscriber only content
Project updates and viewpoints
Ask a neuroscientist: How does music affect the brain of a person with dementia?
The article offers information on how music affects the brain of a person with dementia. It mentions that nonpharmacological strategies can have a significant impact on wellbeing and improve cognition. It discusses that musical engagement, such as listening to music or singing songs, have benefits for people with dementia, ranging from reduced agitation and improved quality of life.
Carer craftivists make their point
The article offers information about the craftivism' project, hosted by Dementia Reframed and Maridulu Budyari Gumal SPHERE (the Sydney Partnership for Health Education Research and Enterprise). It mentions that dementia care partners has talked about stigma, isolation and exhaustion faced by the people with dementia.
Using Technology to foster connections
The article explores how two aged care facilities during the Covid-19 lockdowns in New South Wales, Australia used technology to host events to support resident engagement.
COPE strategies offer practical at home support
In this article, Kate Laver, Sally Day, Miia Rahja, Jennifer Culph and Lindy Clemson discuss the effective implementation of an occupational therapy and nursing program for people with dementia and their families living in the community. The program referred to as COPE Care of People with Dementia in their Environments (COPE) offers practical at-home support.
At home arts program a prescription for welllbeing
The article offers information about Arts on Prescription at Home, a participatory arts program, offered in the homes of people living with dementia and their family members in Sydney, Australia. Reported program outcomes included the provision of opportunities for creative engagement and improved wellbeing of people living with dementia.
StepUp gaining momentum
A progress report on the work of the StepUp for Dementia Research service since its launch two years ago and how to get involved
The specialist dementia care program two years on
A look at the first two years of Australia's Specialist Dementia Care Program
The power of collaboration
The article discusses about the Australian Federal Department of Health and Ageing established the Dementia Collaborative Research Centers (DCRCs) with the aim of fostering collaboration between researchers, clinicians, consumers, policy makers and aged care providers. It mentions the Dementia Centre for Research Collaboration's research for psychosocial care and community, acute and residential dementia care.
Research Focus
Developing effective online dementia care training: lessons from the trenches
Sabrina Pit, Kathryn De Souza and Anne Moehead share key lessons from their experience as dementia educators with the Dementia Care Competency & Training Network. Guidance on developing, delivering and evaluating effective online dementia care training is outlined.
Plus the latest dementia research news, resources and events.
References
Carer 'craftivists' make their point (pages 11-13)
by Chloe Watfern, Gaynor Macdonald, Imelda Gilmore, Lynne Stone and Michele Elliot
Australian Institute of Health and Welfare (2021) Dementia in Australia. Available at: www.aihw.gov.au/reports/dementia/dementia-in-aus.
Chan D, Livingston G, Jones L, Sampson EL (2013) Grief Reactions In Dementia Carers: A Systematic Review. International Journal of Geriatric Psychiatry 28(1) 1-17.
Cooper C, Balamurali T B, Livingston G (2007) A Systematic Review Of The Prevalence and Covariates Of Anxiety In Caregivers Of People With Dementia. International Psychogeriatrics 19(2) 175-195.
Corbett S, Housley S (2011) The Craftivist Collective Guide to Craftivism. Utopian Studies 22(2) 344-351.
Farina N, Page T E, Daley S, Brown A, Bowling A, Basset T, Livingston G, Knapp M, Murray J, Banerjee S (2017) Factors Associated With The Quality Of Life Of Family Carers Of People With Dementia: A Systematic Review. Alzheimer's & Dementia. 13(5) 572-581.
Greer B (2014) Craftivism: The Art Of Craft and Activism. Vancouver: Arsenal Pulp Press.
COPE strategies offer practical at-home support (pages 17-19)
by Kate Laver, Sally Day, Miia Rahja, Jennifer Culph and Lindy Clemson
Clemson L, Laver K, Jeon Y-H, Comans TA, Scanlan J, Rahja M et al (2018) Implementation Of An Evidence-Based Intervention To Improve The Wellbeing Of People With Dementia And Their Carers: Study Protocol For 'Care Of People With Dementia In Their Environments (COPE)' In The Australian Context. BMC Geriatrics 18(1) 1-11.
Clemson L, Laver K, Rahja M, Culph J, Scanlan JN, Day S et al (2021) Implementing A Reablement Intervention, 'Care Of People with dementia in their Environments (COPE)': A Hybrid Implementation-Effectiveness Study. The Gerontologist 61(6) 965-976.
Dementia Australia (2019) Our Solution: Quality Care For People Living With Dementia. Canberra: Dementia Australia.
Fortinsky RH, Gitlin LN, Pizzi LT, Piersol CV, Grady J, Robison JT, Molony S, Wakefield D (2020) Effectiveness Of The Care Of Persons With Dementia In Their Environments Intervention When Embedded In A Publicly Funded Home- and Community-Based Service Program. Innovation In Aging 4(6) doi:10.1093/geroni/igaa053.
Gitlin LN, Winter L, Dennis MP, Hodgson N, Hauck WW (2010) A Biobehavioral Home-Based Intervention And The Well-Being Of Patients With Dementia And Their Caregivers: The COPE Randomized Trial. JAMA 304(9) 983-991.
Mooldijk SS, Licher S, Wolters FJ (2021) Characterizing Demographic, Racial, and Geographic Diversity In Dementia Research: A Systematic Review. JAMA Neurology 78(10) 1255-1261.
Rahja M, Comans T, Clemson L, Crotty M, Laver K (2018) Are There Missed Opportunities For Occupational Therapy For People With Dementia? An Audit Of Practice In Australia. Australian Occupational Therapy Journal 65(6) 565-574.
Rahja M, Nguyen KH, Laver K, Clemson L, Crotty M, Comans T (2020) Implementing An Evidence‐Based Dementia Care Program In The Australian Health Context: A Cost-Benefit Analysis. Health & Social Care in the Community 28(6) 2013-2024.
Rahja M, Culph J, Clemson L, Day S, Laver K (2020) A Second Chance: Experiences and Outcomes Of People With Dementia and Their Families Participating In A Dementia Reablement Program. Brain Impairment 21(3) 274-285.
Van't Leven N, Prick A-EJ, Groenewoud JG, Roelofs PD, de Lange J, Pot AM (2013) Dyadic Interventions For Community-Dwelling People With Dementia and Their Family Caregivers: A Systematic Review. International Psychogeriatrics 25(10) 1581-1603.
At-home arts program a 'prescription' for wellbeing (pages 20-22)
by Claire O'Connor, Roslyn Poulos, Michelle Heldon, Linda Barclay, Elizabeth Beattie and Christopher Poulos
Alzheimer's Australia (2014) Living With Dementia In The Community: Challenges and Opportunities. Retrieved from Scullin, ACT: www.dementia.org.au/sites/default/files/DementiaFriendlySurvey_Final_web.pdf.
Burnside LD, Knecht MJ, Hopley EK, Logsdon RG (2017) Here:Now – Conceptual Model Of The Impact Of An Experiential Arts Program On Persons With Dementia And Their Care Partners. Dementia, 16(1) 29-45.
DiLauro M, Pereira A, Carr J, Chiu M, Wesson V (2017) Spousal Caregivers And Persons With Dementia: Increasing Participation In Shared Activities Among Hospital-Based Dementia Support Program Participants. Dementia 16(1) 9-28.
Giebel CM, Challis DJ, Montaldi D (2014) A Revised Interview For Deterioration In Daily Living Activities In Dementia Reveals The Relationship Between Social Activities And Wellbeing. Dementia 15(5) 1068-1081.
HammondCare (2017) An Arts on Prescription Model To Promote Healthy and Active Ageing. Available at: www.hammond.com.au/arts-on-prescription-sector-guide/file.
Johnson J, Culverwell A, Hulbert S, Robertson M, Camic PM (2017) Museum Activities In Dementia Care: Using Visual Analog Scales To Measure Subjective Wellbeing. Dementia 16(5) 591-610.
Kaimal G, Ray K, Muniz J (2016) Reduction of Cortisol Levels and Participants' Responses Following Art Making. Art Therapy 33(2) 74-80.
Pertl M, Rogers J, Galvin A, Maher M, Brennan S, Robertson I, Lawlor B (2015) Loneliness Predicts Dementia-Caregiver Burden Better Than Extent, Nature and Length Of Caregiving Or Support Service-Use. European Health Psychologist 17(Suppl) 529.
Poulos RG, Harkin D, Beattie E, Cunningham C, O'Connor CMC, Poulos CJ (2021) Arts on Prescription @ Home: Home-Delivered Participatory Art Pilot To Support Wellbeing In Dementia Carer And Care Recipient Dyads. Journal of Aging and Social Change 11(2) 33-49.
Poulos RG, Marwood S, Harkin D, Opher S, Clift S, Cole AMD, Rhee J, Beilharz K, Poulos CJ (2019) Arts On Prescription For Community-Dwelling Older People With A Range Of Health and Wellness Needs. Health and Social Care in the Community, 27(2) 483-492.
Rigby T (2004) Selling Social Inclusion Through The Arts. A Life in the Day 8(3) 25-28.
Secker J, Heydinrych K, Kent L, Keay J (2018) Why Art? Exploring The Contribution To Mental Well-Being Of The Creative Aspects And Processes Of Visual Art-Making In An Arts And Mental Health Course. Arts & Health 10(1) 72-84.
Spijker A, Vernooij-Dassen M, Vasse E, Adang E, Wollersheim H, Grol R, Verhey F (2008) Effectiveness Of Nonpharmacological Interventions In Delaying The Institutionalization Of Patients With Dementia: A Meta-Analysis. Journal of the American Geriatrics Society 56(6) 1116-1128.
van der Lee J, Bakker TJEM, Duivenvoorden HJ, Dröes RM (2014) Multivariate Models Of Subjective Caregiver Burden In Dementia: A Systematic Review. Ageing Research Reviews 15 76-93.
Developing effective online dementia care training: lessons from the trenches (pages 36-40)
by Sabrina Pit, Kathryn De Souza and Anne Moehead
Australian Commission on Safety and Quality in Health Care (2016) Delirium Clinical Care Standard. Sydney: ACSQHC.
Australian Commission on Safety and Quality in Health Care (2017) National Safety And Quality Health Service Standards. 2nd ed. Sydney: ACSQHC.
Booth A, Carroll C, Papaioannou D, Sutton A, Wong R (2009) Applying Findings From A Systematic Review Of Workplace-Based E-Learning: Implications For Health Information Professionals. Health Information and Libraries Journal 26(1) 4-21.
Carroll C, Booth A, Papaioannou D, Sutton A, Wong R (2009) UK Health-Care Professionals' Experience Of Online Learning Techniques: A Systematic Review Of Qualitative Data. Journal Of Continuing Education In The Health Professionals 29(4) 235-241.
Chen Y, Zheng J, Wu D, Zhang Y, Lin Y (2020) Application Of The PDCA Cycle For Standardized Nursing Management In A COVID-19 Intensive Care Unit. Annals of Palliative Medicine 9(3) 1198-205.
Collier E, Knifton C, Surr C (2016) Dementia Education In Higher Education Institutions. Nurse Education Today 35(6) 731-732.
Critical Appraisal Skills Programme (CASP) (2018) CASP Checklists. Oxford: CASP. Available at: https://casp-uk.net/casp-tools-checklists/
De Souza K, Pit SW, Moehead A (2020) Translating Facilitated Multimodal Online Learning Into Effective Person-Centred Practice For The Person Living With Dementia Among Health Care Staff In Australia: An Observational Study. BMC Geriatrics 20(1) 33.
Ellis C, Roland D, Blair ME (2013) Professional Education Interventions Designed To Improve Knowledge And Uptake Of Immunisation. Community Practitioner 86(6) 20-23.
Hertfordshire County Council (ND) Kirkpatrick's Evaluation Model. Hertfordshire UK. Available at: https://www.hertfordshire.gov.uk/Media-library/Documents/Kirkpatricks-Evaluation-Model.pdf
Kirkpatrick J, Kirkpatrick W (2009) The Kirkpatrick Four Levels: A Fresh Look After 50 Years 1959-2009. Available at: https://openspaceconsulting.com/wp-content/uploads/2019/06/Kirkpatrick-Four-Levels-wp-updated.pdf
Kitwood TM (1997) Dementia Reconsidered: The Person Comes First. Buckingham: Open University Press.
Kuek A, Hakkennes S (2020) Healthcare Staff Digital Literacy Levels and Their Attitudes Towards Information Systems. Health Informatics Journal 26(1) 592-612.
Li Y, Wang H, Jiao J (2020) The Application Of Strong Matrix Management And PDCA Cycle In The Management Of Severe COVID-19 Patients. Critical Care 24 157.
Moehead A, DeSouza K, Walsh K, Pit SW (2020) A Web-Based Dementia Education Program and Its Application To An Australian Web-Based Dementia Care Competency And Training Network: Integrative Systematic Review. Journal Of Medical Internet Research 22(1) e16808. doi: 10.2196/16808
Phillips B, Turnbull B, He FX (2015) Assessing Readiness For Self-Directed Learning Within A Non-Traditional Nursing Cohort. Nurse Education Today 35(3) 1-7.
Pit S, Fisk M, Freihaut W, Akintunde F, Aloko B, Berge B, Burmeister A, Ciacâru A, Deller J, Dulmage R, Han TH (2021) COVID-19 and The Ageing Workforce: Global Perspectives On Needs And Solutions Across 15 Countries. International Journal For Equity In Health 20(1) 1-22.
Prince M, Bryce R, Ferri C (2011) World Alzheimer Report. The Benefits Of Early Diagnosis And Intervention. London: Alzheimer's Disease International.
Prince M, Wimo A, Guerchet M, Ali G, Wu Y, Prina M (2015) World Alzheimer Report. The Global Impact of Dementia. An Analysis Of Prevalence, Incidence, Cost And Trends. London: Alzheimer's Disease International.
Scerri A, Innes A, Scerri C (2017) Dementia Training Programmes For Staff Working In General Hospital Settings – A Systematic Review Of The Literature. Aging & Mental Health 21(8) 783-796.
Sharp A (2012) Humanistic Approaches to Learning. In: Seel NM (eds) Encyclopedia Of The Sciences Of Learning. Boston, MA: Springer. doi: 10.1007/978-1-4419-1428-6_530
Surr C, Gates, C, Irving D, Oyebode J, Smith S, Parveen S, Dennison A (2017) Effective Dementia Education and Training For The Health And Social Care Workforce: A Systematic Review Of The Literature. Review Of Educational Research 87(5) 966-1002.
The Royal Commission Into Aged Care Quality and Safety (2021). Final Report: Care, Dignity And Respect. Canberra: Commonwealth of Australia.
United Nations Sustainable Development Group (2020) Policy Brief: Education During COVID-19 And Beyond August 2020. New York: UNSDG. Available at: https://unsdg.un.org/resources/policy-brief-education-during-covid-19-and-beyond
World Health Organization (WHO) (2022) Health Workforce Education and Training. Available at: www.who.int/activities/health-workforce-education-and-training
Subscribe for more
We offer some of our content online, but more articles, resources and news are available to subscribers only in our quarterly publication. Subscribe to receive the AJDC delivered to your inbox or your door.