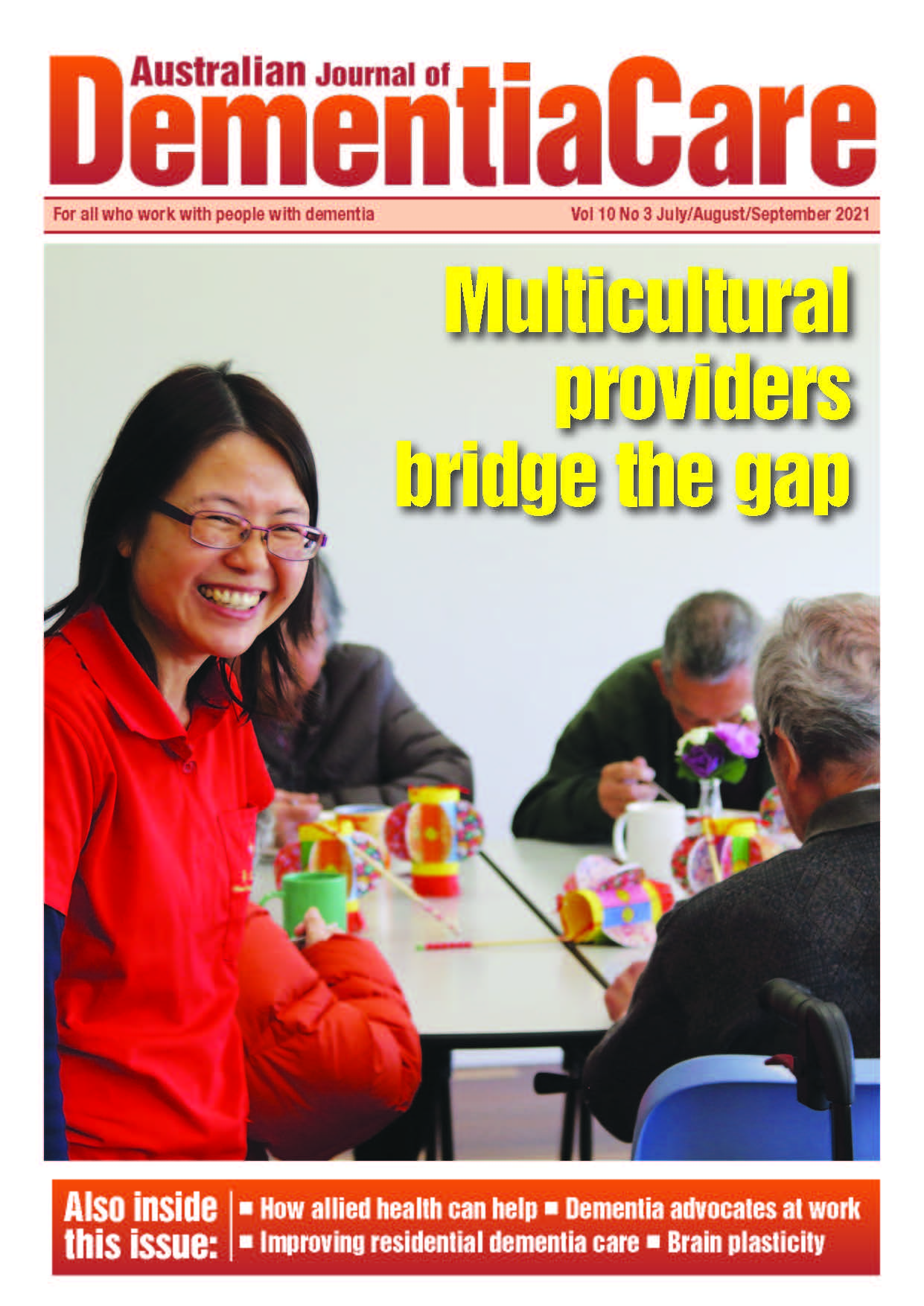 Vol 10
Issue 3
2021
Jul / Aug / Sep
Issue 3
Jul / Aug / Sep
2021
Multicultural providers bridge the gap
Multicultural providers bridge the gap
Inside this issue
Subscriber only content
Project updates and viewpoints
Rebooting training with VR
The article reports on the plan of Dementia Training Australia (DTA) to launch the first statewide rollout of its virtual reality (VR)-based workshop, Meaningful Spaces, in Western Australia in November 2021. Topics include the use of VR by the workshop to enable healthcare workers to experience the life of a person living with dementia and success of the Meaningful Spaces resource piloted by DTA in a series of workshops in 2019.
Dementia advocates at work
The article features the Dementia Australia Advisory Committee (DAAC), a group made up of people living with dementia. Topics discussed include the function of the committee, background on its launching in 2013, and the meetings being held by the committee. Also mentioned are the activities of the DAAC including their involvement in Dementia Australia's Dementia Action Week 2020 campaign, research engagement, and their collaboration with the Dementia Australia Consumer Engagement team.
Multicultural providers bridge the gap
The authors share the learning from asking multicultural providers how they facilitate access to dementia services for clients from culturally and linguistically diverse backgrounds. Topics discussed include importance of good communication to boundary crossing, services that acted as cultural brokers between communities and the aged care system, and factor that made it easier for families to recognise the benefits of residential aged care.
Changed Behaviours Special Interest Group
The article features Australia's Dementia Center for Research Collaboration (DCRC) Changed Behaviors Special Interest Group (Sig) which aims to promote inclusivity and multidisciplinary collaboration to better understand changed behaviors and improve care for people living with dementia, families and care partners. Topics include goal of the SiG, the emergence of changed behaviors during the course of dementia, and information on the initial SiG meeting and workshop.
Thousands take action to improve hospital experience
The author reflects on the achievements of the Australia's Caring for Cognitive Impairment Campaign five years after its launch in 2016. She talks about the purpose of launching the campaign, an essential part of providing better person-centred care, and an example of how a project lead, education of clinical and non-clinical hospital staff, a patient and family-centred approach, and communication can improve patient outcomes
Research Focus
What works to improve residential dementia care?
The article identifies the key factors relating to care staff that lead to good quality of care and quality of life for residents with dementia. Topics discussed include importance of the quality of care provided by staff to the quality of residents' lives, the need to scrutinise the focus, timeliness and quality of the qualifications or training courses, and recommendations to the Royal Commission into Aged Care Quality and Safety.
Plus the latest dementia research news, resources and events.
Subscribe for more
We offer some of our content online, but more articles, resources and news are available to subscribers only in our quarterly publication. Subscribe to receive the AJDC delivered to your inbox or your door.