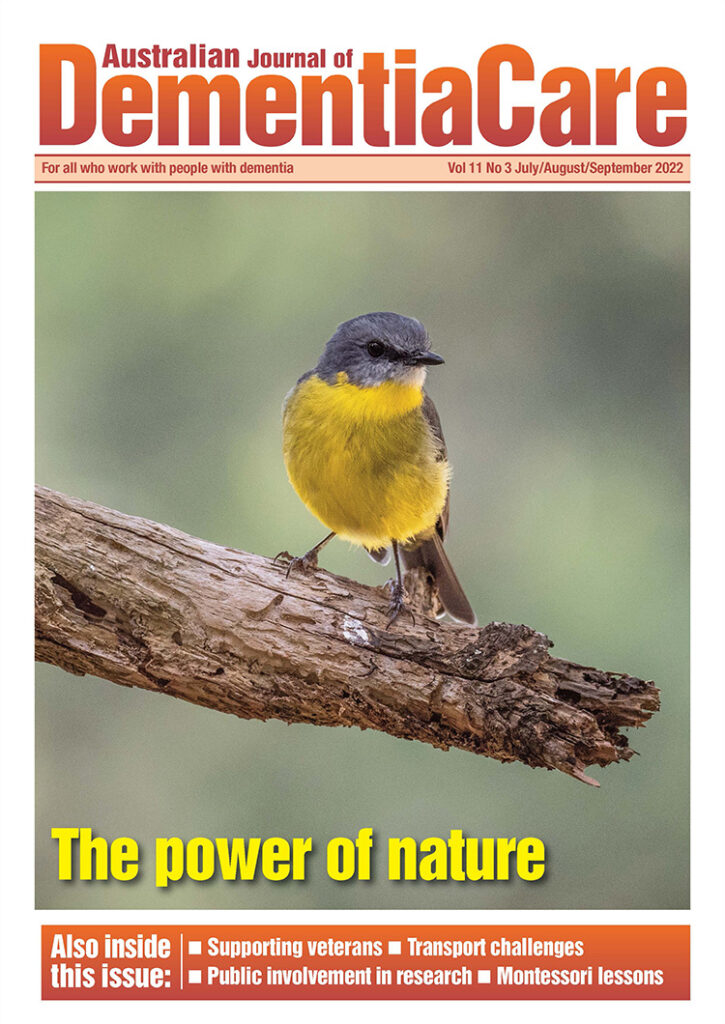 Volume 11
Issue 3
2022
Jul / Aug / Sep
Issue 3
Jul / Aug / Sep
2022
The Power of Nature
Inside this issue
Subscriber only content
Project updates and viewpoints
Improving accommodation in residential aged care
The report of the Royal Commission into Aged Care Quality and Safety recommended the creation of "a comprehensive set of National Aged Care Design Principles and Guidelines" to improve the design of residential aged care accommodation.
It's time: ARIIA's blueprint for transforming aged care
In so many cases, it's not that we don't have the research and evidence about best practice in aged care; we just haven't done enough to translate that knowledge into better practice on the ground. That's the challenge being addressed by Aged care Research and Industry Innovation Australia (ARIIA). Research director, Professor Sue Gordon, explains.
AJDC asks
What do you hope the Australian Government's new ARIIA at Flinders University will achieve for people living with dementia?
Ask a neuroscientist…
'How do genes influence the risk of Alzheimer's disease?'
Ask the experts who are living the experience…
What makes a venue 'dementia friendly'?
Taking action to support veterans with dementia
Claudia Meyer, Xanthe Golenko and Judy Lowthian are evaluating the implementation of a program of music and reminiscence therapy, sensory modulation and exercise as a means of reducing responsive behaviours and depression for Australian Defence Force veterans.
Green Scripts: prescribing nature as therapy
A group of committed local dementia advocates in Ballarat, Victoria, has developed a program to help people living with dementia to better connect with nature in all its goodness. Caroline Gibson and Mark Yates tell the story.
A family's perspective on care
Ben Johnston and his family, from Melbourne, share their experience of dementia and lessons learned with other families and caregivers.
Research Focus
Not left behind: considering future transport technologies for people living with dementia
The evolving transport landscape presents some challenges, especially for people living with dementia and the care partners supporting them. This was the subject of a study by a multidisciplinary team from University of Queensland and Deakin University.
Dementia research: taking stock
With a new government in Canberra, it is timely to review the dementia research horizon and take a pulse check. By Professor Henry Brodaty and Professor Elizabeth Beattie.
Features
Montessori-inspired care: changing lives for the better
Jade Cartwright, Elizabeth Oliver, Anne Kelly and Anne Whitworth have been involved in implementing and evaluating Montessori models of care and interventions across aged care organisations in Australia. Here they share a blueprint, with practical strategies.
Whither (or wither) public involvement in dementia research in Australia?
Involving lay people, including those with 'lived experience', in the design, implementation and reporting of research is much discussed and widely understood to be best practice, but are Australian researchers living up to the rhetoric, asks Dr Jane Thompson.
Plus the latest dementia research news, resources and events.
References
Ask a neuroscientist: How do genes influence the risk of Alzheimer's disease?
Taking action to support veterans with dementia
Aged Care Sector Committee Diversity Sub-group, Department of Health (2017) Aged Care Diversity Framework. Canberra: Department of Health.
Meziab O, Kirby K, Williams B et al (2014) Prisoner of war status, post-traumatic stress disorder, and dementia in older veterans. Alzheimer's & Dementia 10(Supp 3), S236-41.
Qureshi S, Kimbrell T, Pyne J et al (2010) Greater Prevalence and Incidence of Dementia in Older Veterans with Posttraumatic Stress Disorder. Journal of the American Geriatrics Society 58, 1627-33.
Dallam D, Mellman T, Bhatnagar A et al (2011) Trauma Re-Enactments in Aging Veterans with Dementia. Journal of the American Geriatrics Society 59(4) 766-768.
Yaffe K, Vittinghoff E, Lindquist K (2010) Post-Traumatic Stress Disorder and Risk of Dementia Among US Veterans. Archives of General Psychiatry 67(6) 608-13.
Dunt D, Doyle C, MacFarlane A et al (2012) The Impact of War Experiences on Dementia in Veterans. Melbourne: University of Melbourne.
Meyer C, O'Keefe F (2018) Non-Pharmacological Interventions for People with Dementia: A Review of Reviews. Dementia 19(6) 1927-1954.
Cummings J, Mega M, Gray K et al (1994) The Neuropsychiatric Inventory: Comprehensive Assessment of Psychopathology in Dementia. Neurology 44(12) 2308-14.
Mahoney F, Barthel D (1965) Functional Evaluation: The Barthel Index: A Simple Index of Independence Useful in Scoring Improvement in the Rehabilitation of the Chronically Ill. Maryland State Medical Journal 14, 61-65.
De Morton N, Lane K (2010) Validity and Reliability of the de Morton Mobility Index in the Subacute Hospital Setting in a Geriatric Evaluation and Management Population. Journal of Rehabilitation Medicine 42(10) 956-61.
Jorm A, MacKinnon A (1995) The Psychogeriatric Assessment Scales. Canberra: Australian National University.
Alexopoulos G, Abrams RC, Young RC, Shamoian CA (1988) Cornell Scale for Depression in Dementia. Biological Psychiatry 23(3) 271-84.
Green Scripts: prescribing nature as therapy
Pretty J, Peacock J, Sellens M, Griffin M (2005) The Mental and Physical Health Outcomes of Green Exercise. International Journal of Environmental Health Research 15(5) 319-37.
Kaplan R (2001) The Nature of the View from Home: Psychological Benefits. Environment and Behavior 33(4) 507-42.
Akers A, Barton J, Cossey R et al (2012) Visual Color Perception in Green Exercise: Positive Effects on Mood and Perceived Exertion. Environmental Science & Technology 46(16) 8661-66.
Li Q, Kobayashi M, Wakayama Y et al (2009) Effect of Phytoncide from Trees on Human Natural Killer Cell Function. International Journal of Immunopathology and Pharmacology 22(4) 951-9.
Fisher JC, Irvine KN, Bicknell JE et al (2021) Perceived Biodiversity, Sound, Naturalness and Safety Enhance the Restorative Quality and Wellbeing Benefits of Green and Blue Space in a Neotropical City. Science of the Total Environment 755 143095.
Gladwell VF, Brown DK, Wood C et al (2013) The Great Outdoors: How a Green Exercise Environment Can Benefit All. Extreme Physiology & Medicine 2(1) 3.
Chatterjee HJ, Camic PM, Lockyer B, Thomson LJM (2018) Non-Clinical Community Interventions: A Systematised Review Of Social Prescribing Schemes. Arts & Health 10(2) 97-123.
Evans SC, Barrett J, Mapes N et al (2019) Connections with Nature for People Living with Dementia. Working With Older People 23(3)142-51.
Consumers Health Forum. Social Prescribing November 2019 Roundtable Report. 2020.
Montessori-inspired care: changing lives for the better
Australian Institute of Health and Welfare (2021) Dementia in Australia. Canberra: AIHW. https://www.aihw.gov.au/reports/dementia/dementia-in-aus/contents/about
Steele L, Swaffer K, Carr R, Phillipson L, Fleming R (2020) Ending Confinement and Segregation: Barriers to Realising Human Rights in the Everyday Lives of People Living With Dementia in Residential Aged Care. Australian Journal of Human Rights 26(2) 308-328. https://doi.org/10.1080/1323238X.2020.1773671
Cartwright J, Roberts K., Oliver E, Bennett M, Whitworth A (2022) Montessori Mealtimes For Dementia: A Pathway To Person-Centred Care. Dementia 21(4) 1098-1119. https://doi.org/10.1177/14713012211057414
Roberts G, Morley C, Walters W, Malta S, Doyle C (2015) Caring For People With Dementia in Residential Aged Care: Successes with a Composite Person-Centered Care Model Featuring Montessori-Based Activities. Geriatric Nursing 36(2) 106-110. https://doi.org/10.1016/j.gerinurse.2014.11.003
Association Montessori Internationale (AMI) (2017) Montessori for Ageing and Dementia. Amsterdam: AMI. http://www.massa.org.au/sites/default/files/AMIMAGADBrochure2017.pdf
Eckermann S, Phillipson L, Fleming R (2019) Re-Design of Aged Care Environments is Key to Improved Care Quality and Cost Effective Reform of Aged and Health System Care. Applied Health Economics and Health Policy 17(2) 127-130. https://doi.org/10.1007/s40258-018-0435-1
Henderson J, Willis E, Xiao L, Blackman I (2017) Missed Care in Residential Aged Care in Australia: An Exploratory Study. Collegian 24(5) 411-416. https://doi.org/10.1016/j.colegn.2016.09.001
Savundranayagam MY (2014) Missed Opportunities for Person-Centered Communication: Implications for Staff-Resident Interactions in Long-Term Care. International Psychogeriatrics 26(4) 645-655. https://doi.org/10.1017/S1041610213002093
Clifford C, Doody O (2018) Exploring Nursing Staff Views of Responsive Behaviours of People with Dementia in Long‐Stay Facilities. Journal of Psychiatric & Mental Health Nursing 25(1) 26-36. https://doi.org/10.1111/jpm.12436
Yury CA, Fisher JE (2007) Preventing Excess Disability in an Elderly Person with Alzheimer's Disease. Clinical Case Studies 6(4) 295-306. https://doi.org/10.1177%2F1534650106288233
Camp CJ (2010) Origins of Montessori Programming for Dementia. Non-Pharmacological Therapies In Dementia 1(2) 163.
Douglas N, Brush J, Bourgeois M (2018) Person-Centered, Skilled Services Using a Montessori Approach for Persons with Dementia. Seminars In Speech & Language 39(3) 223-230. https://doi.org/10.1055/s-0038-1660781
Ducak K, Denton M, Elliot G (2018) Implementing Montessori Methods for Dementia™ in Ontario Long-Term Care Homes: Recreation Staff and Multidisciplinary Consultants' Perceptions of Policy and Practice Issues. Dementia 17(1) 5-33. https://doi.org/10.1177%2F1471301215625342
Standing EM (1962) Maria Montessori: Her Life and Work. New York: New American Library.
Whither (or wither) public involvement in dementia research in Australia?
Thompson J (2016) Don't lose sight of the consumers. Australian Journal of Dementia Care 5(5) 2.
NIHR (2019) UK Standards for Public Involvement. Available at: https://sites.google.com/nihr.ac.uk/pi-standards/home
3 NIHR (2021) Briefing notes for researchers: public involvement in NHS, health and social care research. Online information available at https://www.nihr.ac.uk/documents/briefing-notes-for-researchers-public-involvement-in-nhs-health-and-social-care-research/27371
Greenhalgh T, Hinton L, Finlay T et al (2019) Frameworks for supporting patient and public involvement in research: Systematic review and co‐design pilot. Health Expectations 22(4) 785-801.
Alzheimer's Society (undated) Our research network. Online information available at https://www.alzheimers.org.uk/research/get-involved/our-research-network-volunteers
Alzheimer's Society (2018) "We can make our research meaningful": The impact of the Alzheimer's Society Research Network. London: Alzheimer's Society. https://www.alzheimers.org.uk/sites/default/files/2018-04/Research%20Network%20Report%20low-res.pdf
Westera, A, Thompson C, Morris D, Blissett C, Navakatikyan M (2013) Evaluation of the Consumer Dementia Research Network – Final Report. Wollongong: Centre for Health Service Development, University of Wollongong.
NNIDR (2020) Becoming involved in research: a guide for people living with dementia, their care partners and family members. Canberra: NHMRC National Institute for Dementia Research (NNIDR). Available at: https://dementiaresearch.org.au/wp-content/uploads/2021/01/Dementia-consumer-toolkit_NNIDR-NHMRC.pdf
Dementia Australia Research Foundation (2021) Increasing Advocate Involvement in Research. Advocate and Researcher Perspectives. Canberra: Dementia Australia Research Foundation.
Ayton D, Braaf S, Jones A et al (2021) Barriers and enablers to consumer and community involvement in research and healthcare improvement: Perspectives from consumer organisations, health services and researchers in Melbourne, Australia. Health & Social Care in the Community, 00, 1-14. https://doi.org/10.1111/ hsc.13515
National Health and Medical Research Council (2016) Statement on Consumer and Community involvement in Health and Medical Research, Consumers Health Forum of Australia.
Staley K, Elliott J, Stewart D et al (2021) Who should I involve in my research and why? Patients, carers or the public? Research Involvement & Engagement 7, 41 https://doi.org/10.1186/s40900-021-00282-1
Van Hemelrijck M, Peters V, Loong JF et al (2021) The importance of patient and public involvement in cancer research: time to create a new job profile. Future Oncology 17(28) https://doi.org/10.2217/fon-2021-0489
Richards D, Jordan I, Strain K, Press Z (2018) Patient partner compensation in research and health care: the patient perspective on why and how, Patient Experience Journal 5(3) 6-12.
Australian Clinical Trials Alliance (2021) Toolkit for Researchers and Research Organisations. Online resource available at https://involvementtoolkit.clinicaltrialsalliance.org.au/toolkit/
Staley K, Cockcroft E, Shelly A et al (2019) 'What can I do that will most help researchers?' A different approach to training the public at the start of their involvement in research. Research Involvement & Engagement 5, 10. https://doi.org/10.1186/s40900-019-0144-4
University of Edinburgh and Scottish Dementia Working Group (2019) Core principles for involving people with dementia in research. Edinburgh: University of Edinburgh and SDWG. Available at: https://www.alzscot.org/sites/default/files/2019-07/Core%20Principles.pdf
Denegri S, Starling B (2021) COVID-19 and patient engagement in health research: What have we learned? Canadian Medical Association Journal 193 (27) E1048-E1049. https://doi.org/10.1503/cmaj.210998
Dementia Australia (2021) We can tackle Australia's dementia epidemic. Available at: https://www.dementia.org.au/sites/default/files/2021-04/NCDC_Proposal_13_April.pdf
Nunn J (2015) 'Consumer' should be a taboo word in public services. Health Issues 114, 38-40.
Subscribe for more
We offer some of our content online, but more articles, resources and news are available to subscribers only in our quarterly publication. Subscribe to receive the AJDC delivered to your inbox or your door.