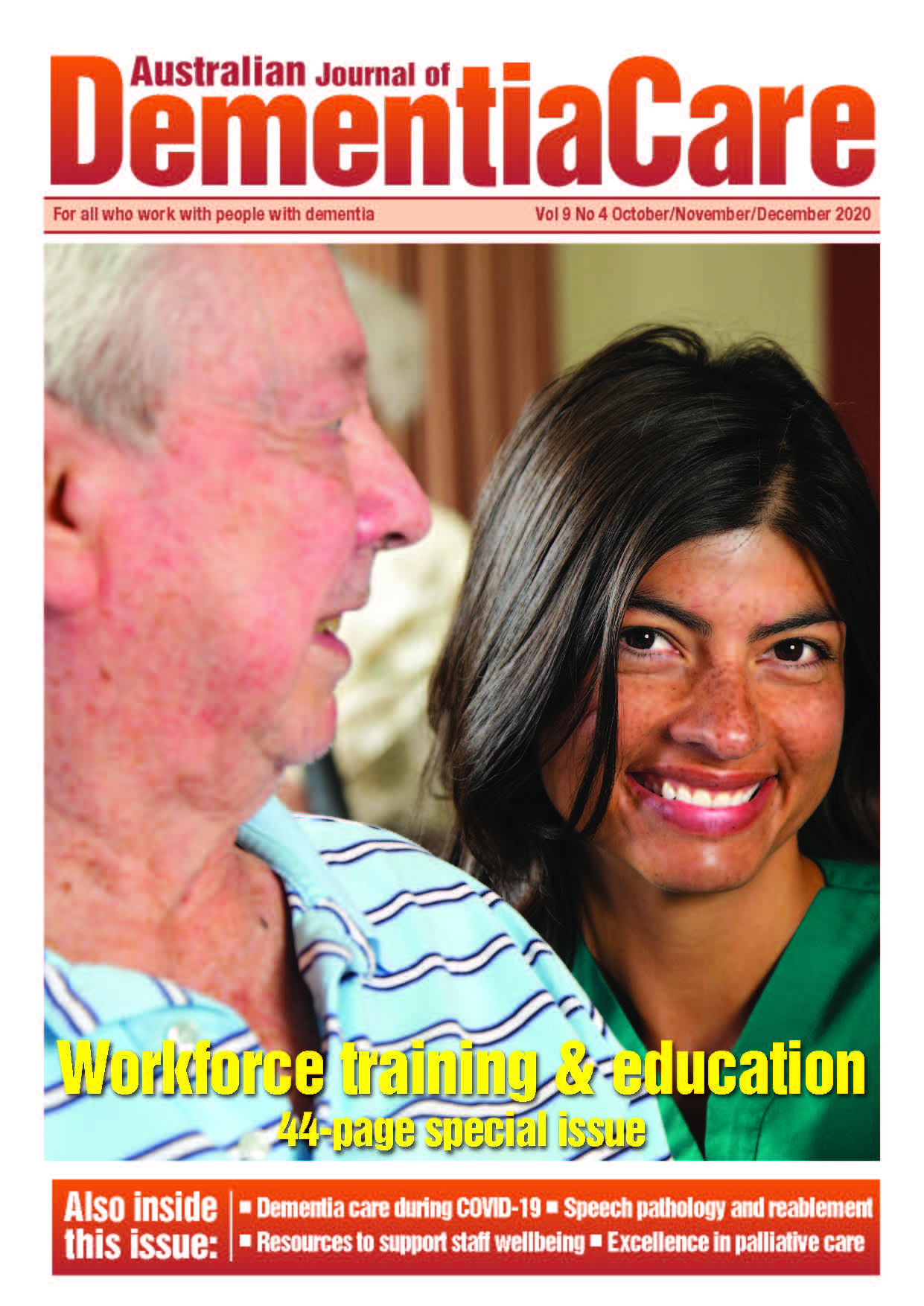 Vol 9
Issue 4
2020
Oct / Nov / Dec
Issue 4
Oct / Nov / Dec
2020
Workforce training & education
Workforce training & education
Inside this issue
Subscriber only content
Project updates and viewpoints
Resources to support workforce wellbeing
The article discusses the Australian Government Department of Health website includes a substantial webpage on Mental Health For The Health Workforce for COVID-19. Topics include Dementia Training Australia's collection of free online resources includes a webinar titled Improve Resilience And Wellbeing In The Dementia Care Workplace During COVID-19; and the report summarises key findings about how and healthcare workers acquired coronavirus.
The Ananda angle
The article discusses Ananda Aged Care partnered with Dementia Training Australia to receive expert training via a Tailored Training Package for staff. Topics include the main objective for Ananda has to understand the use of antipsychotic medication in the context of responsive behaviours due to unmet needs in residents living with dementia; and Ananda has using various strategies to support people with responsive behaviours.
Supporting the frontline workforce during COVID-19
The article discusses Ellie Newman describing a successful partnership between Dementia Training Australia (DTA) and Nurse West, developed in response to the COVID-19 pandemic, to equip qualified nurses with dementia and delirium training. Topics include the Western Australia Department of Health has run nursing and midwifery temporary staff pool, known as Nurse West; and the health service reached out to Dementia Training Australi to see and how DTA has assist.
New tool to improve acute care environments
The article discusses all sorts of environments has improved to better support people living with dementia including hospitals. Topics include Kirsty Bennett introducing a new DTA resource that help facilitate change process within acute settings; and according to the Australian Institute of Health and Welfar people living with dementia has an average hospital length of stay of 13 days in 2016-17.
Learning at all levels
The article discusses student, Laurence Karacsony report on an innovative joint project in the students worked with Dementia Training Australia to develop an online course on nutrition and dementia aimed at care staff working in residential aged care settings. Topics include Dementia Training Australia (DTA) on a team-based project to develop an online course on nutrition and dementia; and DTA team, allowing to get to know and to discuss the project brief.
Building capacity for quality dementia care
The article discusses Blue Care's Nerida Pankhurst sharing what has learnt from a six-month intensive dementia care training program, developed by Hammond Care and Dementia Support Australia. Topics include Blue Care has three organisations chosen for the Intensive Industry Partner Consultant Program pilot in October 2018; and the program promotes using evidence-based therapeutic interventions like music therapy.
Research Focus
Fostering community conversations around dementia
The article discusses the impact of dementia on individuals, families and communities has far-ranging. Topics include Stigma and fear has contributed to isolation of living with the impact of the condition, resulting in subsequent invisibility in the community; and the notion of a community café pilot project has developed, based on the successful death café model.
Features
Speech pathology and reablement
The article discusses speech pathologists has play a central role in the treatment of communication difficulties experienced by people with dementia and supporting existing skills for the course of the disease. Topics include the Clinical Practice Guidelines for Dementia in Australia highlight providing training to support effective communication between a person with dementia; and communication skills training programs have shown positive outcomes for quality of life.
Plus the latest dementia research news, resources and events.
Subscribe for more
We offer some of our content online, but more articles, resources and news are available to subscribers only in our quarterly publication. Subscribe to receive the AJDC delivered to your inbox or your door.