A Journal for all who work with people with dementia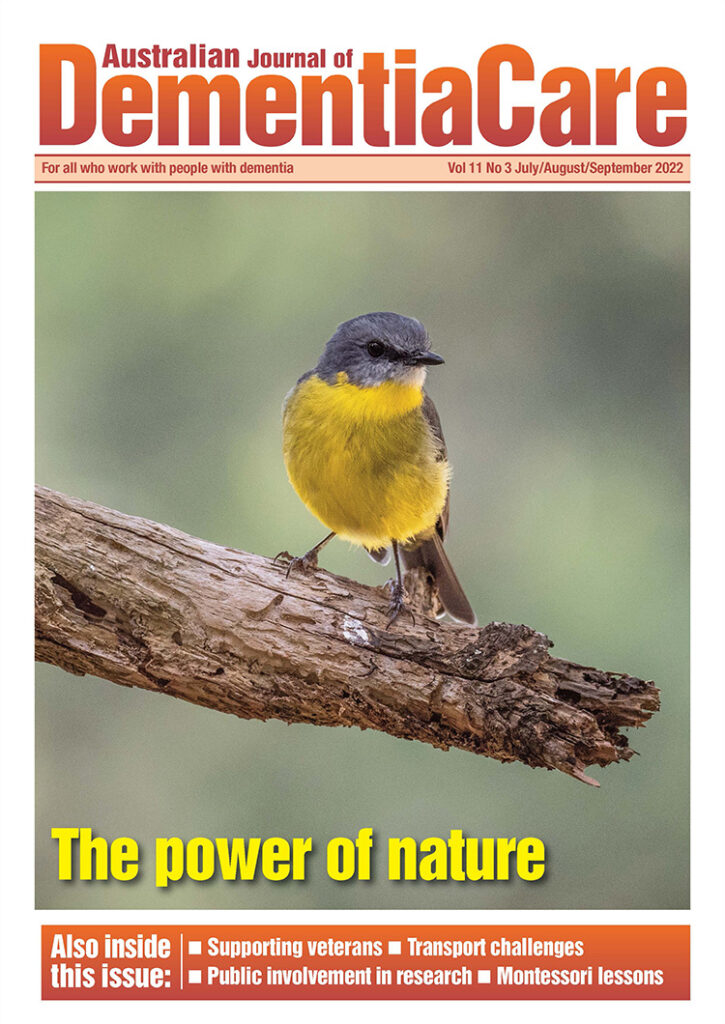 Latest issue
Jul / Aug / Sep
2022
The Power of Nature
About the Journal
The Australian Journal of Dementia Care (AJDC) is a multidisciplinary journal for all professional staff working with people with dementia in residential aged care homes, hospitals, day units and the community.
The Power of Nature
Subscriber only content
Isolation in a time of COVID
Dementia diagnosis in practice
Podcasters speak from experience
'We're doing something together'
Using technology to transform learning outcomes
Why I am a AJDC subscriber
We never stop learning, and this journal is full of educational and informative articles. Stories from a lived experience/perspective are welcomed, especially those from a CALD background. Two way sharing is the way to knowledge and innovation. And this is why I can strongly recommend becoming a subscriber.
Danijela – QLD
Reading AJDC helps keep me updated and informed about best practice care. It helps to prompt ideas about projects we can implement for our sites. Being able to show colleagues, clients and their families the AJDC helps to pitch improvement ideas and reduce stigma.
Katie, NSW
Subscribe to AJDC
Stay informed about the latest developments in dementia care practices, clinical updates, training, technology, research, resources and news.
Subscribe for less than $2 a week
Annual subscription
1 year print subscription (4 issues) $99 (Australia) or $111 (overseas)
1 year PDF subscription (4 issues) $72 (Australia and overseas)
15% discount on 20+ subscriptions
Subscriber-only articles, resources and news
Gift a subscription
You can purchase an AJDC subscription as a gift for a care team, colleague, relative or friend at any time, via the Subscribe page.
AJDC Read and Quiz Series
AJDC is a featured resource in the AJDC Read & Quiz free online learning series produced by Dementia Training Australia. Resource links are also provided for further reading and learners receive a certificate upon completing each module.